ONE DEATH TOO MANY!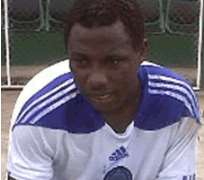 •Ogalo
When Sam Okwaraji slumped and died in a tense Italian '90 World Cup qualifying match between Nigeria and Angola in Lagos on August 12, 1989, deaths on the soccer pitch were as rare as they were quite novel. For the first time, fans came to terms with the fact that football, often cheekily referred to as the beautiful game, could also be very ugly. It was a rude awakening.
Well, the medical experts explained the Okwaraji misadventure as a 'cardiac arrest'. Even though millions of soccer fans didn't really understands what it meant, it, however, sufficed that time, at least, to convince them that the physical exertions of football were terminal enough to kill a player. Pure and simple!
And so, like the Dele Giwa letter bomb affair before it, a notorious precedence had been set and it would unwittingly be the harbinger of more deaths to come as some of the nation's most promising players have all had their fatal encounter with death since then.
Dogged forward, Amir Angwe, wearing the blue colours of Julius Berger FC of Lagos, became the first casualty in the domestic league when he mysteriously passed out in a match involving his team at the Onikan Stadium on October 29, 1995.
Julius Berger team officials would later claim that the former BCC Lions' forward was as fit as fiddle before he was selected to play the game. Well, same reasons as the ones adduced for Okwaraji were offered to explain away the soft-spoken player's unfortunate demise by the medical experts.
Even the shock of the latest sad event was insufficient to send the right signals, as those who knew wrote it off as a happenstance.
Then, it happened again. Exactly two years later, Charity Ikhidero, a former Bendel Insurance player, also collapsed suddenly in a league game. Now, that really got people talking, but only for a while. It soon dissolved with the wind. Ever since, a sizeable chunk of able-bodied talents have been cut down in their prime in the line of duty. Name them: Orobosa Adun, John Ikoroma and now, Emma Ogoli, the Ocean Boys defender, who died last weekend in a match involving his team and Niger Tornadoes in Yenagoa, the Bayelsa State capital.
Even though the cause of the player's death has yet to be ascertained as at press time, emerging facts seem to suggest that the player died as a result of injuries he sustained in an earlier league game. He was alleged to have not fully recovered from his head-on collision with Obinna Nwokolo of Plateau United during a league game on November 14.
Exactly the same fate had befallen Orobosa Adun, a Warri Wolves' goalkeeper, who also died after being passed fit for match he should not have played following the attack on him by fans of Rangers International FC of Enugu. That was on May 26, 2009. These incidents have, of course, been mitigated by occurrences outside the shores of Nigeria. The tragic case of Cameroonian star, Marc Vivien Foe, who died on international duty for his country in a Confederations Cup game in 2004, readily comes to mind. Perhaps, the issue elicited the kind of global attention it did at the time because it happened in a FIFA-organised tournament. Much was done by the world football governing body to avert a reoccurrence, while exploring ways to educate players and official on the need to pay more attention to sports medicine.
Well, if such incidents have been few and far in between, perhaps on account of such strict adherences, there's palpable doubt that it may have really been imbibed in this part of the world as the incidences of players dropping dead in the course of football games is surprisingly on the increase. The worrisome aspect of the latest death trend is that it is not limited to the shores of the country, as players of Nigerian origin have also met their untimely death at clubs in foreign lands.
Promising goalie, Sam Okoye, then at Rangers, had collapsed and died in inexplicable circumstances when he went on trials to Iran sometime in 2006, while Endurance Idahor, a former Julius Berger and Dolphins' player, also died suddenly on Match 10, 2010 in a league game for his Sudanese club, El-Merriekh.
The question that appears to have inevitably trailed these incidents, is whether there is something in the physiological make-up of Nigerian players that make them susceptible to deaths on the field, or that there is insufficient knowledge on what a player needs to survive the continuous strain of a football game?
As experts ponder this monstrous leviathan eating away the lives of the country's future stars, perhaps time is ripe for more attention to be paid on the issue. More than anything else, the security lapses that expose players to unwarranted attack by fans of opposing teams, must be plugged, while mechanisms for checking the health and fitness levels of players must be reviewed and fine-tuned if the current disturbing trend is to be arrested.