SIASIA'S CAR, WAGES READY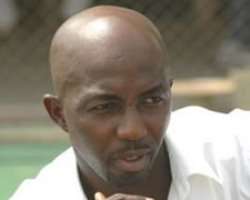 •Siasia
Samson Siasia's first pay packet will be ready next week, a top official of the Nigerian Football Federation (NFF) said. And his official car, a 2010 Ford Taurus will be presented to him before he departs for Europe Friday.
Paying coaches wages has become difficult for the NFF, as previous indigenous coaches were owed for months, and sometimes years.
Current NFF Technical Committee member, Christian Chukwu, is still being owed wages and bonuses from 2005. Foreign coaches such as Berti Vogts and Lars Lagerback solved the problem by insisting on advance escrow payments into foreign accounts.
Samson Siasia is reported to have negotiated an advance payment of N12 million in his contract, but that has been denied by the NFF, that says only his N5 million monthly salary is due this month.
'We are sourcing the money and we are confident that it will be ready next week, even though we still have up till the end of the month to pay,' an official said. But his car has been bought, and will be handed over to the coach before his trip.