LOOK CUTE IN WHITE AND BLACK COMBINATION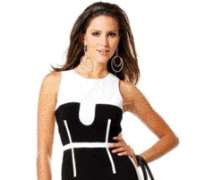 Those who define colour say that white is a symbol of purity and innocence. Black, on the other hand, is both negative and positive. But when black and white are combined, what meaning would this give?
While you are thinking about that, you must know that fashion may be colour blind. Some people wear things they like. It may be because of the colour or because the outfit is in vogue.
However, a combination of black and white clothing as well as accessories has always given a stunning outlook. For an elegant and sophisticated look, allow these two colours into your wardrobe for any season.
You can find confidence in wearing black and white, irrespective of what others may think the colour mean. Try such combination for a birthday party, wedding, business meetings or any informal outing.