FALODE SURE OF FALCONS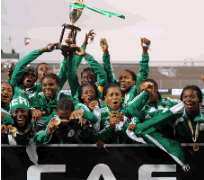 Falcons
Nigeria's FIFA and CAF media committee member, Aisha Falode, has said that there is no cause for alarm over the draw that pitched Super Falcons alongside host Germany, France and Canada.
Falode noted that the match against Germany should not be a yardstick for measuring the performance of the girls. According to her, 'Nigerians should not bother about the grouping as I'm sure the Falcons would make it out of the group with Germany.'
Speaking at the launch of the Emeka Enechi Trust Fund, which held Tuesday at the Media Centre of the Lagos National Stadium, Falode noted that the 8-0 bashing the team received in the hands of Germany in an international friendly match should not deceive Nigerians that the team would not perform at the World Cup.
'I think the chances of the girls are bright, considering the fact that both France and Canada don't boast of a rich women's football culture. I see Nigeria making it to the next round with Germany. The Falcons have got some quality players that would make a difference at the World Cup.
Despite her confidence, Falode pointed out that much would depend on the Nigeria Football Federation, NFF, to make things work for the girls. 'There are needs to put proper structures in place for the girls to make the right impact in the championship. There's need for the FA to start planning for the girls now and
not wait until the last minute before rushing to put things in place.
'We are tired of winning the continental title all the times, it is time we dominate the world or even compete against the best in the world. 'People are afraid that we will not qualify because of the result of the international friendly that just took place.
'The fact remains that the girls were fatigued, they have just come out of two-week tournament, they went from one extreme weather to another, from a very hot one to freezing, chilling cold one, they were tired, they did not prepare mentally for that game and did not prepare for what the weather threw at them.
Reacting to the wide score line of the match between Germany and Nigeria, Falode said that it was a good beginning for the Falcons ahead the World Cup in terms of preparations.