AMAECHI WASN'T ELECTED BY RIVERS PEOPLE, SAYS SEKIBO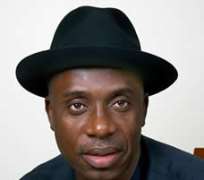 Gov. Amaechi
Dr Abiye Sekibo is a prominent Rivers State politician, who was the State's Secretary to the Government as well as the Minister of Transport in the Obasanjo administration. He was an influential member of the Peoples Democratic Party (PDP) in the state. But he has since changed political platform.
In this interview with Daily Sun , Sekibo offered an insight into why he left PDP, his perception of the Amaechi administration as well as his relationship with former Rivers State Governor, Dr Peter Odili.
Excerpts:
Why did you leave PDP?
Well, a time comes in a man's life when you want to reflect on the direction you are going and ask yourself whether that direction will lead you to your dream and no matter how late in the day, if you find that the direction will not lead you to your expected destination, you must have the courage and the conviction to change direction.
Like you said, we are members of the PDP, we helped build PDP in Rivers state and of course we expected the party to grow from strength to strength. Along the line, some of us noticed some trait that does not augur well for the party itself and does not augur well for the nation.
So, we felt that there should be certain basic changes. Our fellow citizens lost their lives in having to entrench democracy in this country. When they saw, with time, that this democracy was under threat, those people staked their lives to ensure that the right thing was done. That essentially led us to start the PDP Reform Forum.
Now, we have exhaustively looked at issues that we believe are threatening democracy in this country and we came to the conclusion that no human being can give what he doesn't have, so also no institution can give what it does not have.
So, we in the political parties feel we do not have internal democracy, and we felt there must be internal democracy within the PDP and the beginning of that internal democracy is to be sure who your members are and to determine who your members are, you must have an authentic membership register. Surprisingly, the party leadership in its wisdom decided against having that basic requirement.
After they had promised that what we stood up for was right, that they were going to implement it, the president himself even started the process of registration of members of the party but for whatever reason, this was scuttled the whole country witnessed what happened.
And it was done to give people in government an advantage over others.
Some of us thought that was not democracy. So when I reflected on all these, I said no, the PDP has been taken over by people whom I think are anti-democracy because if you cannot give a level playing field to all your members to equally aspire to serve both the party and the nation, then you cannot be said to be democratic. So, after reflecting on all these issues with my friends and colleagues who felt the same way as I felt especially those of us from Rivers state, we took a decision to go in another direction and that was how we joined ACN.
I have formally declared for the party and across the entire state people are registering en-masse for ACN. In fact I can say ACN has never had it this good in Rivers. So that is the situation, we are on a journey and we feel the road we are taking will not take us to the desired destination and so we had to make a U turn and take the right road.
Who are the prominent Rivers politicians who are in the group that defected to ACN?
In principle, we had discussed this over and over again and we agreed that it must be an individual decision. We realised that in political calculation, everybody wants to take a decision that will most foster the dreams that the person has. But having said that, you have to look for people with common dreams, I have a decision now because I feel it is the time to move and all those who believe in me have taken their decision.
I am also aware our faction of the PDP has taken a firm decision that they should move out, almost all of them are moving and I do expect that Celestine Omehia and Austin Opara had some time ago taken a decision.
You are running for governorship in 2011. Do you think ACN is the best structure that can give you the desired result, against a formidable, incumbent PDP government in the state?
Well, first of all, let us look at PDP as a party, what PDP is today is because of the people that are in the party. So, if the people were to move out of it, PDP becomes an empty shell, so it is not important what you call it, it is the human being that gives direction and I can say that many of us were at the core of PDP'S victory in Rivers state.
We have been the movers and the spirit behind that name PDP in Rivers state. So, as far as we are concerned, we have moved to another platform.
By implication, are you saying Governor Amaechi  has no structure
There are two things. There are those whose relevance is purely because of the office they hold and there are those whose relevance is because of  who they are. Those of us who are leaving PDP to ACN are not in this state for who we are, not for the offices we hold.
Interestingly almost all of us don't hold any prominent office, so my people are following us just because of who we are not because we have something to share, not because we are holding office or have contracts to give and that says a lot for the kind of people that are following us.
They could have followed government and get contracts and get money, but they feel this is where the truth is and they stand by it. So, muscling or no muscling, it is he who has power that wants to use the power to muscle and we know that in a democracy, it is wrong to use governmental power that belongs to all of us to muscle your political opponent. We know it is wrong and we also know that those in government always do that.
With the President's assurance that he will ensure that we have a free and fair election, one- man, one- vote, we have nothing to fear about. We will confront whatever situation we meet in the field but the truth is that we stand for democracy in its true form.
Assess your state in the last three years under the incumbent governor
I must say that I feel sad for what has happened to Rivers state in the last three years under Amaechi. My position, first, is that he was not elected by the Rivers people, no matter what the Supreme Court says, Amaechi was not on the ballot for election in April 2007, he was not in the country and when I think of it, I ask myself whether it is possible for somebody to take over. It is just the same thing that we have been seeing where people who lost election actually assumes office.
Just take a look at what happened in Ekiti State, somebody who did not win elections and who people did not vote for should preside over the affairs of the state. It is worse than a coup. Then, three years after, you say the person was not supposed to be there, then what happened to the resources of that state during the period that the person who was not elected was presiding over the affairs of the state? It is like robbing the people, the same thing in the case of Amaechi.
In fact, it is worse. Supreme Court says the person who was not on the ballot, the person who was only a candidate of his own political party but was not presented to the electorate for an election should be sworn in as governor and then you say it is right in the eye of the law. It is baffling, then you didn't think of the eyes of God, you didn't think of the eye of the people who trooped out to vote. But for me, I am a law abiding citizen and what can I do?
The Supreme Court says he is the governor but I know he is not elected governor and being an un-elected governor,  Amaechi should not be sitting as the governor of Rivers state. But the Supreme Court has ruled. We have put our matter before the court of God and that is the much we can do. Unfortunately, in this last three years that he has been governor, he has actually shown that he was not elected by the people. He has not built consensus in anything that he has done, he has shown arbitrariness in government, he has been high handed, he has been disrespectful to every institution that exists in the land, he disrespects elders, he disrespects chiefs, he does not regard anybody and in fact he has behaved more like an emperor, somebody who is not accountable to anybody, he comes to your community, he does not ask the community how he can work hand in hand with that community, he comes and say I am going to build 10 health centres in this community and  he starts destroying people's houses. No government behaves like that.
What we have seen is a period of intolerance. Three years during which arbitrariness, high-handedness, arrogance took over governance in Rivers state. No amount of project you put down in any community is worth the loss of the dignity of the people even old people who are dying of hunger, if you want to give them food and you want to shove it into their mouths, they will tell you to keep your food. That you are governor does not make you a super god over other people. But that is what is happening in Rivers state, nobody is anybody to the governor unless you go and cringe before him.
So, I think that these three years have been a period of terrible loss for the people of Rivers state.
Could you focus on the health and education sector in the state. How has he fared in those sectors?
Well, I would say that the education and the health sector are sectors that lend themselves to contract opportunity and 90 percent of the time, he has taken the same kind of arbitrary decision.
Take my community in Rivers for example, we have the general hospital in Okrika, it is ill equipped and has a lot of land for expansion, it has need for personnel, any government should have found ways of equipping hospital and would have made it to serve more people, if today they are serving 1000 people in a day, they should be equipped in such a way that it will serve 2000 people and deliver first class service. Rather than do that, he went to build an health centre beside the general hospital, when you do that, it is not because there is no health facility in the community it is because you want that contract as an avenue to enrich people.
So most of the so called mega projects that are being awarded in the health and education sector are not borne out of need. They are borne out of the desire to quickly give out contracts to cronies to make money. Take the Rivers State University, for example, it remains one of the best we still have in this county and located in a fantastic location with buildings and everything functioning. The governor says his priority is to remove the university from that location to another location. Once again, the decision was  not borne out of any planning or reasoning but out of desire to award a mega contract.
But the question to ask is whether these are priorities. Rivers state is crying for human development, there is a functioning health centre and general hospital in every local government area but visit there, no doctors, no nurses, no radiographers, no consultant, those are things that if the money being used to award contracts to cronies were used to train medical doctors, train nurses and buy equipments, we will have the best medical team in Rivers state but that is not the priority of Rivers state, all they want to hear is mega, mega contracts and that mega is not referring to the projects that are being useful to the people but the quantum of money. When they say mega, it means mega bucks, mega naira. You will hear mega metro, mega hospital the quantum of naira in it is awesome and that can never be a plus and every single project they embarked upon in the last three years is yet to be completed and this is a governor that was part of the government that built 1000 houses, completed in the first 100 days in office, he was part of that government being the Speaker, I was SSG under Dr Peter Odili and we built 1000 housing units in every local government of Rivers state in 100 days in office, he was part of that miracle.
Now, the point I am making is that it is impossible to discuss these issues without putting them in clear perspectives, go round and see the mega multi billion naira schools he is building, we have several government owned schools, I am not talking about the ones that has been ceded back to the owners, there are government secondary schools all over every community crying for government attention, they don't deserve government attention rather what they do is to invade the local government and take over primary schools and build mega schools.
Why, because we need areas to quickly give money to our supporters. The same governor who told our people that he is saving money for them in the bank suddenly has gone borrowing, mortgaging the future of Rivers state by borrowing billions of naira.
With the picture you have painted so far, is that why you to want to run for the governor's office?
I have not said I am running for the governorship.
But it is a known secret
No, I have not said I am running for the governorship.
If you deny that, why was the chairman of ACN in Rivers state recently beaten up by some people claiming he had sold the chapter of the party to you and has adopted you as the sole candidate for the governorship in 2011?
First, it was not true that he was beaten up. Truly there were some fracas where the party was doing its registration. But it is not true that the chairman was beaten and stripped as reported in the media.
But there was some fracas by people that were misinformed or people who did not understand what the party processes are.
What was taking place was a registration training exercise, in other words, they needed to train people from every ward in the bio-metrics and electronic registration of membership that they were to carry out and this group of party members felt that materials were being distributed for membership registration and that those materials were not being given to them. They were sponsored into going to do all that and I can tell you that to prove that they were sponsored, as the act was going on at the venue, media houses were receiving calls across the country being told to carry the story that Dr Abiye Sekibo is being rejected in ACN.
What was the interest of those who were making these calls? These were people that are very close to the government, what was their interest and who sponsored these people and misinformed them that materials were being shared? We wanted two people each from the 319 wards undergoing training on how to register, then you go and misinformed some boys and make them to go and attack the place and started calling media houses, it shows the thing was clearly sponsored.
So, back to what you asked, the chairman of ACN in Rivers state is an honourable man and I have known him for a very long time and I know that he will ensure that justice is done. Those who have shown interest are quite aware that he will provide a level playing ground for everybody because the party guidelines has indicated what to do to provide a level playing field for everybody. What we detested in PDP, we must not carry it to ACN.
You are known to be a good loyalist of former governor of Rivers state, Dr Peter Odili and now you have moved to ACN while he remains in PDP. Is it that the game is over between you?
First of all, the relationship between me and Dr Odili is firm and solidly on the ground.  There is no disagreement between us. I am his loyalist. I owe no one apologies on that. The success of Dr Peter Odili's administration in the state, I claim, the failures of that administration, I also accept the responsibility. I accept that yes in some areas we failed and Odili is one of the people that will tell you that he is not God and he couldn't have been perfect and that he tried his best.
Irrespective of where I go, I have the highest regard and respect for Dr Odili.
Today, we may not be in the same political party but I wish Dr Odili will agree to leave PDP. But knowing him for who he is, he may not but what has happened to him is the worst kind of injustice and inhumanity of man to man, this is a man who practically helped organized  the PDP in the entire country, what he did for PDP, no other Nigerian has done.  But today, the party behaves as if he does not exist and they think that is the right way to go. Before God, even morally, is it right. But he is a member of the Board of Trustees of PDP and has taken a decision to remain in the party and he is very large-hearted man. And some of us, our heart has not grown to that extent but I must say that PDP as a political party has been most unfair to Dr Odili. In fact when I see how unfair the PDP has been to him, I strongly feel that I should not be in that party.