UWECHUE ON HIS OWN – OHANAEZE CHIEFTAIN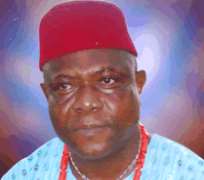 The Eze Udo of Ikeja, Lagos, and the Okpotemba of Igbere,Abia State, Eze Uche Dimgba, has said that Ohanaeze has not endorsed any presidential candidate. He insisted that the advertorial Ambassador Ralph Uwechue put in some national newspapers recently was his personal agenda.
In this interview, he also spoke on what Ndigbo could use their huge population to achieve in Lagos State, the state of insecurity in the South-East and more. Excerpts
The developmental potentials of Ndigbo
Among all the ethnic groups in the country, the Igbo have the gift of development. Take an Igbo man to the desert and leave him there for one year. You would see that the desert has turned to a city flowing with milk and honey. It is a gift from God which nobody can take away from us.
We are doing that here in Lagos and in other places. We are reclaiming swamps and other places that people thought are inhabitable because of the topography to build houses and industries. Nigerians have not exploited this quality. The Igbo is a rare gift to Nigeria, but the state called Nigeria unfortunately has not realized it or they are pretending not to know. The developmental potential of Ndigbo is not in doubt. I feel that the Nobel Laureate, Prof Wole Soyinka, hit the hammer on the head when he said that Ndigbo have the capacity to squeeze water from stone. The sooner the Nigerian state begins to tap into the potentials of Ndigbo, the better for the whole country.
20111 presidential elections
My advice to Ndigbo with regards to 2011 presidential election is that we have to be analytical in our choice of the candidates to vote for. We know that 2011 is not the turn of Ndigbo to run for the president of the country. Our turn is in 2015.Therefore, our best bet is
to support a candidate that would work towards Igbo becoming the president of this country in 2015. We can make our own impact and move Nigeria forward.
The Igbo that have the capacity to turn things around for the good of this country. If we are given the opportunity to preside over Nigeria, we will do it on a national scale. We are therefore, asking our people to support the candidate that would work for the emergence of an Igbo president in 2015. At the moment, we are still consulting. We have not agreed on any particular candidate when that is done, we will tell our people that this is where we are going.
I am using this forum to advise Ndigbo to ignore the advertorials that were published recently in some national dailes.The advertorials are strictly the agenda of the sponsor.There was never a time Ohanaeze sat and agreed to endorse any of the presidential aspirants. In my personal capacity I have not been invited to any meeting where a decision to back aspirants 'A' or 'B' was made. I am appealing to Ndigbo not to allow themselves to be deceived. Ohanaeze has not endorsed any of the presidential aspirants.
Igbo in Lagos
During the last census, we were told that the population of Ndigbo in Lagos State was 43 percent of the total population. Having said this, you know that we are practising democracy which is a game of numbers. With such numerical strength, we can do wonders politically in the state. What is holding us down is that most of us are not politically conscious. We are only interested in our business. Some Igbo in Lagos don't register and they don't vote. They don't even want to know who is elected the governor of the state.
This time around, there is a clarion call for the Igbo to go out and register whenever the voters' registration begins. We are not just telling them to register, but they should register at their residential areas. We are advising them to register where they live because on the Election Day, there would be restriction in movements. Whoever that registers in his office or place of business has automatically disenfranchised himself. If they register at their residences, that day they would wake up and vote. They would not only vote, but stay to protect their votes.
With our numerical strength, we will influence who would become the governor of Lagos State. Igbo have decided to change from their apolitical behaviour to political consciousness. This time around, we want to prove to politicians in the state that 43 per cent of a total population is too much to ignore. Whoever wants to ignore Ndigbo in Lagos in the 2011 elections is doing so at his own peril. We are seriously mobilizing and at the end of the day, we will see the way things will go.
Efforts to make Igbo speak with one voice
This is what we have started a long time ago. We know that Igbo are republican in nature .We discovered that those who brought themselves out for leadership don't have the desired leadership qualities. Then we began to search for leaders and right now, we have been able to assemble well-meaning Igbo that have come out to galvanize others. What every Igbo need is to see selfless commitment and sincerity of purpose. Once they see it, they would fall in line.
We have been able to make Igbo in Lagos to come together. During the last Igbo Day celebration, all the Igbo socio-cultural organizations came together to organize and celebrate it.
This is the first time such is happening. All the Igbo socio-cultural organizations are having meeting together. You can see the members of Igbo-speaking communities attending Ohanaeze Ndigbo meeting or vice versa, or Ohanaeze attending Aka-Ikenga or Ndigbo Lagos meetings or vice versa. We are trying to form a single bloc and we have almost succeeded.
If you go back to the history of crisis in West African countries, Ghana was the first to be hit and they ran to Nigeria. Here in Nigeria, they were treated as if they were not human beings. You remember the days of Ghana-Must-Go. But before Nigeria knew what was happening, they put themselves together and today, Ghana is a pride of Africa. This thing that happened to Ghanaians is what happened to the Igbo. We have realized our mistakes and we are correcting them. The insinuation that Igbo can never come together is still there. I am telling you that they would be surprised because we are together and we are going to do things in unionism here in Lagos. The true Lagosians are the Igbo because they are the ones developing everywhere in the state.
During the last census, we were asked not to go, but to stay and be counted here and we obeyed. That showed that we are part and parcel of the state. If we can be law-abiding to the government, why can't we be part of the government? We are united and we want to support good governance. If we see anybody that would appreciate what we are doing in the state and give us sense of belonging we will throw our weight behind him to make Lagos a better place for us all.
Insecurity in South-East
The kidnapping issue is being vigorously tackled. The Army is doing a wonderful job. Once soldiers settle down, the issue would become a thing of the past. I learnt that they have overrun the camp that the kidnappers were taking their victims to and they are now living there. The issue was beyond police and now that the Army has been brought in, the whole thing would soon end.
The Press and the Igbo nation
The Press has not been fair to the Igbo nation. What is being reported about the nation at times is not the truth. Somebody was saying the other day that if Igbo are given opportunity to present a presidential candidate that more than 200 people would come up. If you go down memory lane, during the Second Republic when Dr Nnamdi Azikiwe came out to run for the office of the president, did any other Igbo man come out to contest against him? But in the North, they had Alhaji Shehu Shagari, Mallam Aminu Kano and Alhaji Ibrahim Waziri. In 1999, how many Igbo men came out to fight for PDP ticket with Chief Alex Ekwueme? It was only Jim Nwobodo that came out and for two people to come out from an ethnic group with over 45 million people, was that too much? The press had been ridiculing us that once a position comes out, every Igbo man and woman would come out and none would agree to step down for the other. The advantage that the Igbo have is that we have means of livelihood. Politics is like a past time and immediately he fails, he goes back to his business.
The problem with Nigeria is that our brothers from the other side see politics as a business and when there is no politics they would start to create problems. Igbo don't engage in do-or-die politics because they have other things doing. They go every where develop the places, pay their taxes, construct roads, put water, electricity and other amenities. A case in point is what happened in Anambra State recently. Mr President went and commissioned two privately-owned giant projects and both of them were first of its kinds in West Africa. Two people decided to bring industrialization to their communities, but government is not supporting us. Let Nigeria support an Igbo man to be president of this country and they would see a quantum leap in terms of development.