ANAMBRA IN PRESIDENT'S EYES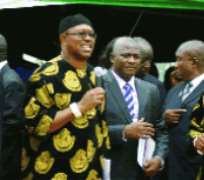 Penultimate Friday, Anambra State governor, Mr. Peter Obi played host to President Goodluck Jonathan, who was on a one-day working visit to the state to commission and inspect some projects. Indeed, apart from the Innoson Vehicle Manufacturing Plant in Nnewi, NAFDAC laboratory in Agulu and Juhel Pharmaceuticals, Awka, the president had a hectic day commissioning and inspecting projects executed by Obi.
In an interview with Saturday Sun , the elated governor said that these projects represent less than 25 percent of his total achievements, which are part of his efforts to achieve the Millennium Development Goal's 2015 mark. The governor said he was able to carry out these laudable feats because of fiscal prudence, which his administration has adopted to deliver its electoral promises to the people.
On the state of the road in the state, Obi said he promised to build 100 kilometres of roads every year during his campaign, which would translate to 400 kilometres in four years. The governor pointed out that the state is one of the few that has done extremely well in road construction. According to him, you can drive from one part of the state to other parts in less than 40 minutes, adding that most of the good roads were constructed by his government.
He said: 'At the end of my first tenure of four years, I had built 450 kilometres of road, including 13 kilometres built in Anambra West, which is not just the only first tarred road in the entire local government area but also a short cut to Abuja that saves two hours travel time from Anambra State. There is also the dualised Zik's Avenue, with streetlight and befitting drainage traversing the capital city of Awka. The Agulu Lake Road, Nri Road and Ezinano Junction are all part of this achievement on roads through ANIDS.'
Other projects inspected and commissioned by the president include, Adazi-Nnukwu-Obeledu-Oraeri-Igboukwu road and Agulu-Aguluzigbo-Igboukwu road.
The president also inspected Odor Bridge, which is the longest bridge ever built by any state government in Anambra State. He also commissioned the Agulu-Enugwuukwu-Nri road at Ezianano Junction. The Nise-Nibo-Awka outer ring road was also commissioned. The State Emergency Management Agency ( SEMA ) was also commissioned as well as the general outpatients department building of the Anambra State University Teaching Hospital. Jerome Udoji Secretariat Complex, Awka was also commissioned as well as ASUBEB office complex, Awka. Dr. Alex Ekwueme Square, Awka and Kenneth Dike Central e-Library, Awka were commissioned by the president. The library is the first to be built by any government in the state since its creation.
Commenting on his efforts to achieve the MDG's goal, the governor said he was moving forward and committed to reforms and changes, with clear vision of achieving the MDGs by 2015, as stipulated by United Nations.
'Our strategy of achieving these goals, which we christened Anambra Integrated Development Strategy (ANIDS), is a process that allows us to plan properly in all areas of the MDGs, budget properly to support our plans, execute them, and ensure delivery. We have moved our budget from being supply driven to demand-driven, by finding out from the people their preferences. At a recent MDG meeting in New York, it was pointed out that Nigeria would not achieve three goals of the MDGs, namely, eradication of extreme poverty and hunger, improvement of maternal health and environmental sustainability. But we are confident that we will achieve them in Anambra State. Because of our commitment to growth and development, we have been able to attract developmental agencies, such as EU, UN-HABITAT, World Bank, UNDP, corporate organisations and entrepreneurs to the state. Ours is a reference state for development,' he said.
President Jonathan didn't leave the state without the governor presenting his shopping list to him, which include, the declaration of Onitsha-Nnewi axis a special economic zone, the Second Niger Bridge, refund of money spent in fixing federal roads, declaring Anambra an oil producing state because of its abundant gas deposit and others.
According to the governor, 'in the recent world habitat expo in China, UN-HABITAT showcased Onitsha as one of the five fastest growing intermediate cities in the world. Others are Johor Bahru, in Malaysia; Tetouan, in Morocco; Uberlandia, in Brazil and Hunchun, in China. All the other four cities presented by the UN-HABITAT alongside Onitsha have been declared economic zones by their respective countries. We appealed the president to declare Onitsha-Nnewi axis a special economic zone, and accordingly direct appropriate and immediate governmental action in that regard.
'Onitsha has a population about three million people as assessed by UN-HABITAT, and it is without any functional water scheme.'
The governor reminded the president how he had directed the Federal Ministry of Water Resources to do something urgently, as a result of which the minister, permanent secretary and other officials of the ministry visited Anambra State. He equally brought to the notice of the president that work is yet to commence on the project.
Obi said: 'The state has deployed billions of Naira on some federal roads and we also appealed to the president for refund. When former President Olusegun Obasanjo visited the state in 2006, he gave us express permission to start work on the Atani-Ogwuikpede Road, which links Anambra and Rivers State. This is a N15billion contract for which we have paid over N5billion from our meager resources. We have also paid about N3billion on the N5billion on Onitsha-Nkpor- Amawbia road, and paid about N1.2billion on the Oba- Nnewi Road, which is almost completed. A refund of the total sum of N9.2billion, which has been invested in these roads will be immensely appreciated. This will enable us to use the refund to attend to various pressing matters in other areas to develop the state.
'We also want the Anambra to be declared an oil producing state because it has one of the greatest reserves of gas in Nigeria. In the interim, we must draw attention to the collapse of the Onitsha-Nnewi industrial base, which, in 80s, was the fastest growing industrial axis in Nigeria. The declining fortune is due to constant and acute power outages. As a short time measure, Okpai in Delat State produces gas in abundance and we request the piping of this gas from across River Niger to Onitsha, which is a distance of less than five kilometers. This will resuscitate distressed and dormant industries in that axis.'
On how he was able to carry out these projects, with a monthly statutory allocation that is less than N2billion, Obi said that he reduced the cost of running government to the barest minimum.
'What we have achieved this as a result of collapsed cost of running the government. Traveling expences are reduced to the barest minimum. Example, there was a governor of this state that spent about N30million to travel to the United States for the World Igbo Congress. When I came they put a memo that we should spend N23million on the trip. I asked for a one-page memo should be written to me on the importance of World Igbo Congress to Anambra State, so that we can quantify the cost. Based on what they wrote I told them that it can ot cost us more than N5m,' the governor said.
Concerning internally generated revenue, Obi remarked that he has not been hard in driving taxes in areas, like Onitsha because government has to fix the place before its start taxing them.
The governor said: 'Tax is like a bank account; you must put something before you talk about withdrawing. Over the years, the people have not got much from the government, so they have lost confidence in government and so you need to bring the confidence back and that is what I'm doing. People have to trust you and make sure you are using their money responsibly, not when you are dancing about all over the places with their money.'
On the current strike by universities in the South East, Obi expressed deep concern and noted that it was a situation that he didn't want to talk to the press about.
'It is a situation where you say, 'I am supposed to be paid this amount;' that is your demand and I say, 'I can't afford it, let's discuss what I can afford, but you say, 'No, either you meet my demand or I stop work' and I say, 'I cant afford it.'
'You can't put minimum wage. This is a federation. We are federating units and no two states can pay the same salaries. We borrowed the idea of federation from the United States of America. For example, in US, the 2010 budget of the state of New York is over $150billion. California is about $206billion, while that of North Dakota is about $3.4billion. You can't pay the man in North Dakota what the man in New York earns. The governor of California earns $230, 000 but there are other states in America where the governor is earning about $37, 000. You have to live with your income. This is natural everywhere. There is no minimum wage in China, likewise India and Singapore. I have to live with my income.
'Revenue Mobilisation and Fiscal Commission came here and said they were fixing salaries of political appointees. My commissioners earn less than their counterparts in other states. I told the revenue commission that they can't come here and tell me how I spend my income. If any of these political appointees working with me don't want to stay, they can decide to leave. I have not tied any of them to the chair. You can't come from there to fix what people earn here. The people working with me might not have been happy over their salaries, but it is not about their happiness but the happiness of the people that voted for me that is important to me.
'I have not said that I would not pay the university teachers. All I'm saying is, come let's us sit down and agree on what I can afford and you look into your own revenue but you refused and insisted that you must be paid your demand. Attempts have been made to meet with them but they frustrated such moves. Penultimate Tuesday, elders forum, comprising Bishops and other elders called for a meeting but they didn't come. Let's set a committee on income so that some of them who are professors and more intelligent than I could find ways to increase our income base, but they don't want to hear about it. I have added two labour unionists into my revenue committee because I want them to come every month to see what we get and how we share it.'
Obi said there was need to resolve how to fund university. 'University is not universal basic education. It is a privilege everywhere in the world. I am challenging the South East journalists to call us for a meeting and I will be there. The governors were not part of the ASUU agreement; it was between Federal Government and federal universities. The law establishing Anambra State University is different from the law establishing University of Nigeria, Nsukka. It is based on income. Example, when I was in the bank as chairman of Fidelity, I was not paid the same thing as chairman of Union Bank. Workers in Fidelity are not paid the same with their colleagues in First Bank. It is based on income. Former Standard Trust Bank (STB) bought its directors' Jeeps, but Fidelity didn't buy a car for its chairman. They have to live within their income,' he concluded.