NIGERIA STANDS 34TH IN THE WORLD, 5TH IN AFRICA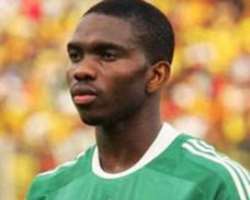 Yobo
FIFA ranking released yesterday has revealed that Nigeria is standing still, unmoved, on the table. African champion, Egypt, has dropped out of the top 10 in the latest FIFA's rankings released on Wednesday. Egypt has been the highest placed African team for nearly a year.
The Pharaohs' drop to 11th means there is no African team among the world's best sides. Ghana moved up three places to 17th, while Ivory Coast leaped four places to 19th. World and European champion, Spains remains top of the rankings, while beaten World Cup finalist, Netherlands, stays in second and Brazil moved up a place to third.
Meanwhile, Tunisia moved up 11 places to make it into Africa's top 10. The biggest movers in Africa are the Central African Republic who jumped 60 places to a 112th in the world and 28th in Africa, largely thanks to her 2-0 victory over Algeria in an African Cup of Nations qualifier earlier this month.
World Cup-winner, Spain, still tops the FIFA's rankings published on Wednesday, and Croatia and Russia returned to the top 10, using victories in 2012 European Championship qualifiers.
France bounced back into the top 20, rising seven places to No. 18, after sinking to a historic low last month.
The United States (US) dropped seven to No. 25, as she has been playing only friendlies since the World Cup, while European and African teams gathered ranking points from higher-value continental qualifiers.
Spain won both of her Euro 2012 matches this month and continues to lead the Netherlands, which also had a pair of victories, in second.
Brazil rose to No. 3 in a swap with fourth-ranked Germany. Argentina was fifth, followed by England, Uruguay, Portugal and Croatia. Russia's Euro 2012 wins over Ireland and Macedonia lifted her 15 spots to No. 10, edging African champion, Egypt, into 11th place.
Slovenia was at a best-ever No. 15, ahead of Italy which fell three places. International football's newest member, Montenegro, continued its recent surge to No. 26 following a victory over Switzerland and a draw away to England.