I STARTED COURIER MASTERS IN MY SMALL SITTING ROOM – OBI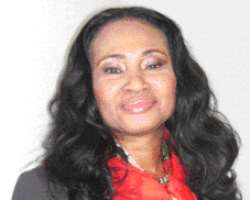 Uche Obi
When Mrs Uche Obi, recently attained the golden age of 50, it was good occasion for her friends and family to join the boss of Courier Master in thanksgiving to God for His faithfulness and mercies. Talking about her decision to set up a courier company was a natural follow up to the work she had done in spearheading IAS/TNT for nine years, a family business of same nature.
Her life story is quite interestin as Obi got married in her early 20s after meeting her husband at the airport where she had gone to see off her brother sometime in the 80s. A year later they got married. The celebratory mood also provided a good opportunity for the soft-spoken woman to talk about how God took her through the hard road to entrepreneurial success, in this chat with Christy Anyanwu.
How does it feel to be 50?
I feel good and very thankful to God for having seen me through this far, and kept me strong and healthy to be able to attain the golden age. I must also that I feel humble too because my 50th birthday is not just about celebrating me but the goodness and faithfulness of God.
What was it like growing up?
Growing up was quite interesting because I come from a humble family. My parents took a lot of interest in making sure that they disciplined and brought us up in the proper way while instilling the spirit of hard work in us. They believed that whatsoever you achieve in life, you must work hard for it, and also to excel in whatever we set out to do Back then we would wake up as early as 6 am and pray together in the morning after which everyone would find something to do in the house. My parents ensured that everyone had a house chore to work on every morning. So growing up was very interesting because we were made to realize that laziness does not pay.
Were there any privileges you enjoyed back then?
Everything was in place then. There was never power failure. The level was not up to what it is today, and there was respect for elders and family pedigree. At that time too, family background mattered unlike what we have today where anything goes; where people do not consider the background of an individual before he/she is put in position of leadership.
Then, one's family's name was more important in the sense that whatever you do, you try as much as possible to hold your family name in high esteem. People were conscious of what they did but today we have lost our value system. Even as a student, we were taught morals and the need to excel in our academic work. Because of that kind of upbringing I was able to pursue my dream, study economics in the university and came out with a good grade. I was able to get a husband at the age of 24 just immediately after I graduated from the university and I thank God today.
So, in what way did your upbringing contribute to what you are today?
I would say that what I am today is the result of the upbringing I got from my parents. I imbibed entrepreneurial skill from my father, Chief F.G.N. Okoye, who started business with nothing. In fact he used to tell us that he started his business with 10 shillings and he was able to grow his business to an enviable status. So he inculcated in us that spirit of succeeding in the midst of nothing.
So today I believe that there is no impossibility; it is just a question of dreaming that you can do a thing and soon it would come to pass. So I grew up with the firm conviction that the destiny of what you would be is in your hands. There is little of luck in it, no doubt, but I solely believe that if you are determined and work hard, you will succeed in life.
At 50, are you satisfied with life or are there things you think you should have achieved but didn't?
I am somebody who is very down-to-earth. Let me tell you, if you leave me for 24 for hours in a day, I would work round the clock but it is unfortunate that we have only eight solid hours to work. So, my regret is that there are a lot of things I want to do and achieve but have not been able to achieve I cannot do so many things because time is an impediment.
That is my major regret in life. For example, I have had this dream to publish a real life magazine but I have not been able to do it. Everywhere I look, I see heart-touching and real life testimonies that would either impact positively or negatively on people. Not being able to document these in a magazine, has been a frustration to me. I sit down beside people and they tell me their stories and I am like, O my God! This story needs to be heard by the entire world. Even myself, being what I am today is a miracle when I consider the challenges that I have faced while growing up.
Would it then be right to say that you are not fulfilled at 50?
If I say I have not done well, I think God will not be happy with me because there are many people who started together with me but they have not even recorded half of my achievement as at today. By the grace of God, I have five children; two of them are university graduates. The third one will graduate soon. Right now, I have a successful courier business that is running well.
Therefore, I am contented with life. Considering the things that have that have happened to me in life, I have grown to realise that what matters most in life is being at peace with yourself and not just running about pursuing money and thinking that money would buy you happiness. So I am very contented that God has blessed me with the little that I have achieved today in life. I believe that in the next 10 years when I would have clocked 60, I would have achieved much more than what I have today.
And the challenges you encountered along the way?
My life has been full of ups and down. I have had accidents that would have taken my life; mortal men have disappointed me and even by my close relations. In fact what happened to me before I started Courier Masters, is what would have made me walk on the streets begging for money, but rather at that time I cried and prayed to God. Help came from people I never expected could help me. In fact the start up capital I used for my business came as a miracle.
Somebody had offered to help me and asked me to come to his office. As I went to the person's office, I even went late. I was given an appointment for like 10am but I went there about noon, and while I was walking in, the person I was supposed to meet was driving out; I waved him down and he stopped and looked at me. Then I appeared like someone who had lost all hope, but he looked at me and then came back to his office.
He then said to me, 'I have heard about your story and I understand that you want to start up a courier business. He brought out a cheque book and wrote N2.5m. And as I held the cheque, I was shivering and almost fell off the staircase as I came out of his office. When I got to my car, I started weeping, wondering if it was real and in fact that was the genesis of this company, which started in my small sitting room and has today become an international company today.
Despite five children and 50, you are still very beautiful and attractive. So, how do you overcome advances from men?
Right from when I was in school, I never got carried away by men. I was so serious with everything that I hardly noticed the advances from men and that was why I was able to come out with a Second Class Upper result in economics. I have always known what I wanted in life and I went for it. For example when I was leaving the university, something in me was telling me to get settled otherwise I would be so distracted with the men of this world to an extent that I may not get married.
So before I graduated, I was already looking for a serious minded man to be married to and that was why I got married at the age of 24. This helped me. So the man I got married to was already in my life even at the time I went the national youth service. There was no way I could have be distracted by any man because I had made up my mind to remain for the man I married.