TELECOM AND STATISTICIAN – GENERAL'S REPORT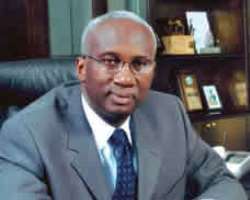 Ernest
Crude oil is something but it is not everything. Having enough reserves does not guarantee a better future either. This is the wisdom of smart economics. It says that all natural endowments may someday pass; they may dry up or simply disappear. But it reckons that there are things that cannot disappear.
They just endure the ages. One of them is technology, especially information communications technology, ICT. In the last decade, the Forbes list of world's richest billionaires had always been dominated by ICT entrepreneurs. A few samplers: Bill Gates of Microsoft; Carlos Slim Helio, the Mexican telecom tycoon; Larry Ellison of Oracle, Michael Dell etcetera.
Smart economics has pushed nations and people endowed with natural deposits to diversify. Ever heard of Onsi Sawiris and his three sons? They are the richest family in Egypt with a combined net worth of $13 billion. Sawiris and his three sons, each of whom runs one of the three main Orascom arms, make a good case study of how to make good cash outside crude oil.
The construction arm alone of the Orascom Group has a turnover of $3.8 billion. Four-fifths of this is generated outside Egypt , part of it as a global contractor for America 's  Air  Force, reports The Economist in its lavish focus on Egypt (July 17th, 2010 edition). Then, there is Orascom Telecom which now operates networks in 11 countries; and Orascom Development which owns and builds hotels, holiday villages and housing estates on three continents.
There is so much to learn from the Sawiris family tale. They are Egyptians. Egypt is today Africa 's second largest oil producer and the 12th largest in the world but her entrepreneurs have learnt to play beyond the country's oil wells and gas fields. They are sharpening their technical expertise in other fields including ICT. This is why no reasonable Nigerian would gloss over the recent revelation by the Statistician-General of the Federation, Dr Vincent Akinyosoye.
At a workshop organised by the National Bureau of Statistics (NBS), Akinyosoye said the nation's economy could collapse in three months should there be any natural disaster that would affect crude oil and agricultural production for only 90 days. Prima facie, this sounds alarmist; but if weighed against visible economic indicators, then there is cause to worry.
The Statistician-General's report painted a picture of glum and gloom: high unemployment rate, high rate of exam failures underscoring rapidly declining standard of education and high cost of doing business among others. However, like a flicker of light in a dark tunnel, the report elicited hope in the technology firmament, particularly in telecom.
According to the report, telecommunications made the highest contribution to GDP in the first quarter of this year at over 33 percent ahead of sectors like building and construction and hospitality. Electricity made the least contribution of less than three percent.
There is a corollary, however, to the report in the sense that out of the nation's economic dark cloud, telecom has raised a banner of hope. This is a testimony to the argument that deregulation holds the key to the well being of the nation's economy. It is instructive that the same telecom sector which a little over a decade ago was feeding off the national treasury is today a major contributor to the same treasury.
Credit must go to the President Olusegun Obasanjo administration for making the right choice in its appointment of a regulator to drive the Nigerian Communications Commission, NCC. Obasanjo's appointment of Ernest Ndukwe marked a turning point in the nation's telecom history. Ndukwe midwifed a telecom revolution and there were fears that all the gains that accrued during his fruitful tenure would be eroded at his exit.
President Goodluck Jonathan seemed to have read the minds of most Nigerians. His appointment of Eugene Juwah, a doctorate degree holder in systems engineering was not only thoughtful but also demonstrated the President's commitment to sustaining the momentum in a sector that has created more jobs than any other in the last decade. Juwah is the ultimate round peg in a round hole. Barely two months on the job, he has taken sure-footed steps that point to his avowal to keep the fire of the revolution burning.
Top on his agenda are the dual issues of quality of service and deployment of broadband infrastructure to deliver first class services. Going by his industry antecedent, it is only a matter of time and Nigeria would enter a new realm in telecom service delivery. Juwah has been holding consultations with industry operators and allied stakeholders. He has conferred with different layers of consumers. Much more, he has made pronouncements to reassure the investing global community that Nigeria is the next big thing in telecom. I agree.
With telephone throughput at over 80 million lines and a rapidly evolving ICT awareness culture among the youths, Nigeria will in the next decade transform from an ICT import-oriented nation to one that exports ICT skills to the rest of the world.
As knotty as the issue of quality of service is, many people have advocated punitive measures against errant operators. While this may sound populist, it would be counter-productive as sanctioning operators would further undermine the technical integrity of the networks. Juwah has elected not to walk this path. Instead, he has opted for active engagement with the operators. He should stay the course.
We may not have reached Eldorado in the telecom sector but the verdict of the Statistician-General holds up a glimmer of hope that the nation's economy would yet rebound if the success recorded in the telecom sector is replicated in other sectors.
The lesson here is that indigenous companies have made significant contributions in the overall success in the ICT sector. It is only a matter of time and Nigeria would produce her own version of the Sawiris family: wholly Nigerian conglomerates which will not only play in Nigeria but in as many other countries in Africa and in the rest of the world.
Umukoro writes from Lagos.