STARS OF YESTERYEARS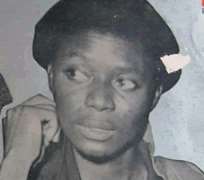 Okotie
Yusuf Olatunji
He was also known as Baba Legba. Olatunji was a sakara drum player who popularized the sakara music genre. Born a Christian and as Joseph Olatunji, his mid-life conversion to Islam boosted his career in Yoruba music. Yusuf won may hearts with tracks like Asa N'beiyele Sere, Jamba Ole se Okuta, Se Eni Kosi
Kris Okotie
Debuting with I Need Someone, an album that took the industry by storm , Kris Okotie's genre of music was refreshingly different and so were his lyrics. They were simple and uncomplicated. Now a cleric, Kris Okotie had a highly successful music career with his peers such as Dizzy K Falola, Jide Obi, and Felix Liberty and they stimulated the emerging music industry of Nigeria .
Osadebe Osita Stephen
Often referred to as just Osadebe, he started his career performing at nightclubs in Lagos. He gradually worked his way up to releasing his first album in 1958. In his career, Osadebe went on to write over 500 songs and half of these songs were released commercially. His career spanned over 40 years, and he is one of the most well known Igbo highlife musicians. His most popular hit was the 1984 Osondi Owendi. In 1981 he was awarded a gold disc for the LP Onu Kwulonjo.
Muddy Ibe
Mubby Ibe, an Onitsha born musician consistently produced series of popular LPs for close to two decades. Some of his hits include Ndi Aghogho Erike, Ezi Omlime Amaka / Kwuo Ka Ira, Wealth Not By Force, Ndi Ntise – Omelum Me Dike, Akalaka, Onye Ilo Mu Agbazina, Niger City Social Club of Nigeria, Ora-Abueze / Elibe Onye Ofogeli / Amam Bu Aghugho.
Orlando Julius
Orlando Julius became professionally involved in music at the early age of 19 as a bandleader and a 'top ace' with Eddy Okonta's popular band in Lagos . He immersed himself not only in the highlife genre of the time, but became enthralled with blending Motown with highlife,. In 1964, he released his first hit single with his newly formed Modern Aces.
Roy Chicago
Born John Akintola Ademuwagun, Roy Chicago was a musician and band leader who played the highlife featuring talking drums in his style. He was most popular during the 1960s. Roy Chicago based his music on Nigerian indigenous themes and folklores.
Chicago who combined the trumpet and saxophone with vocals was successful with hits like Iyawo Pankeke, Are owo niesa Yoyo gbe and Keregbe emu.
Peter King
An instrumentalist , composer, arranger and band leader, Peter King first experienced music at the age of six when he was taught to sing the tonic solfa by a Reverend Father. He has performed with great Jazz musicians like Sonny Rollins, Dexter Gordon, Joel Harriot and played with the likes of Roy Chicago, Victor Olaiya, Charles Ewegwe and E. C Arinze before getting his big break.
He was the musical director for Boney M's first tour of Europe in 1977 and has backed many leading acts like The Four Tops, The Temptations and Diana Ross. His albums include Shango, Omolewa, Miliki Sounds, The Soulful Peter King, and Moods.
Dauda Epo Akara
Dauda Akanmu Epo-Akara was an influential force behind the popular Were genre of Yoruba music. He started producing SP and LP records under Saliu Adetunji's Omo Aje Records label in Lagos. Epo-Akara's band was originally known as Dauda Akanmu Epo Akara & His Ajisari Group, but returning from Mecca, he changed his group's name to Alhaji Dauda Epo Akara & His Awurebe Sound.
Celesine Ukwu
Celestine Ukwu began his musical career in the 1960s with Michael Ejeagha's Paradise Rhythm Orchestra in Enugu . He left four years later to launch his own band, the Music Royals. Following a hiatus caused by the Nigerian Civil War between 1967 and 1970, the Music Royals were resurrected as the Philosophers National and distinguished themselves with a series of sparkling, subtle highlife tunes during the 1970s. Ukwu's most popular song is undoubtedly 1970's Igede, an instrumental piece based on Igbo folklore.
Kollington Ayinla
Ayinla Kollington is widely known for his own brand of Fuji music dubbed Alatika, which used to be full of vulgar, uncouth, and coarsely abusive lyrics.
His works include Fuji Ropopo, Ijo Yoyo, Fuji Megastar, and American Yankee. In the late 1970s, Kollington refined his sound by adding bata drums and changed his band's name to Fuji 78.
Eddy Okonta
A graduate of the Bobby Benson Orchestra, Eddy Okonta is one of the favorite 60s highlife trumpeters. Nicknamed the Obi of the trumpet, his music has an exuberance that personified the best of the 60s dance band highlife style. He endeared himself to many with tracks like Otanjele (Sweet Banana), Asili, Oriwo, Kelewele, Anyidi, Ejenelulo, Okokoko and Abele
Orlando Owoh
Owoh was born Oladipupo Owomoyela in Osogbo, Nigeria, but he later became known to his fans as Chief (Dr) Orlando Owoh. As a young man, Owoh initially entered into the carpentry trade until 1958, when he was hired by Nigeria's Kola Ogunmola Theatre Group to play drums and sing. Owoh went on to form Dr. Orlando Owoh and His Omimah Band in 1960, and over a musical career of forty years, became one of the leading proponents of highlife music. With bands such as the Omimah Band and later the Young Kenneries and the African Kenneries International, Owoh remained popular in Nigeria, even as tastes moved to the newer juju and fuji styles.
Orlando Owoh died on November 6, 2008, in Lagos, Nigeria. He had over 45 albums to his credit.