Zoning: Atiku, Saraki Got It Wrong - Jonathan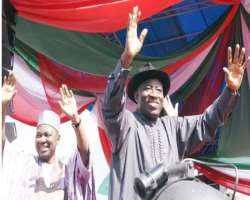 PHOTO: PRESIDENT GOODLUCK EBELE JONATHAN WITH DEPUTY, NAMADI SAMBO DURING THEIR FORMAL DECLARATION TO CONTEST THE 2011 PRESIDENTIAL ELECTION IN ABUJA.

ABUJA, Sept 28, (THEWILL) - The Jonathan/Sambo Campaign Organisation has lashed out at the duo of Alhaji Atiku Abubakar and Governor Bukola Saraki arguing that the duo's repeated shrill cries against the candidacy of President Goodluck Jonathan is premised on a false foundation.
In a statement in Abuja and made available to THEWILL, Sully Abu, Director of Media and Publicity declared; "It is preposterous to admit in one breath that the President has the constitutional right to contest and in another declare him unqualified on the basis of his geopolitical zone of origin.
"In any case, the PDP has long settled this issue when it affirmed the President's right to contest. One would have expected that all those shouting themselves hoarse on this issue would, as loyal party members, respect the decision of the party," Abu said.
He further stated that it was clear to Nigerians that all those against President Jonathan's candidacy were scared of a free and fair contest; instead of seeking to broaden the democratic space, they were out to confer an unfair advantage on themselves. "If they are as politically powerful as they claim," he said, "why are they afraid of open competition, an opportunity provided by the PDP primaries?" he queried.
He advised them to stop attempting to re-write the Nigerian Constitution through the back door.