ATIKU TO JONATHAN: ANSWER 'USING STATE FUNDS' ALLEGATION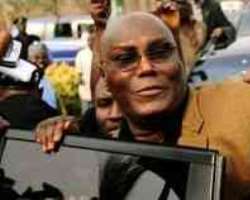 Former Vice President Atiku Abubakar
Peoples Democratic Party (PDP) aspirant and former Vice President Atiku Abubakar yesterday challenged President Goodluck Jonathan to respond to allegations that his campaign funds are taken from the nation's treasury.
Atiku gave the challenge in a statement by his Campaign Organisation (ACO) in Abuja.
The statement said, 'President Jonathan has failed to respond to a critical and serious allegation made by a major and reputable socio-cultural group in the country, the Arewa Consultative Forum (ACF), that the President is using public resources to fund his lavish campaign engagements.'
But in a swift reaction, President Jonathan, through his campaign organisation, dismissed the allegation as cheap blackmail, challenging anyone who has evidence of use of public funds for running his campaign to produce it.
Atiku said it would amount to double standards for the President to commit himself to zero tolerance on corruption and then resort to use of the peoples' money to pursue personal ambition.
He said there must be a clear distinction between President Jonathan as an individual aspirant and the President as the head of government and commander in-chief.
'Wherein lies the level playing field when public resources are put at the disposal of the President just because he is an incumbent?' Atiku said.
But Director of Media and Publicity Jonathan/Sambo Campaign Organization, Mr Sully Abu, said, 'the President's anti-corruption stance is well known and he is determined to pursue all miscreants on this score. In any case gone are the days when use will be made of slush funds like the Petroleum Technology Development Fund (PTDF).