Jos Abduction: Police Nab Kidnappers And Driver, Free Abducted Kids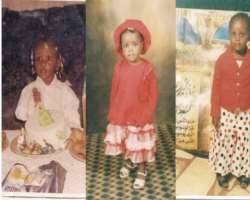 PHOTO: A PHOTOGRAPH OF THE KIDNAPPED KIDS.

JOS, Sept 23, (THEWILL) - The three kids abducted two days ago in the first major kidnap incident in Jos, Plateau State have been rescued by officers of the Plateau State Police Command.
The kids, Hafsa, Hajara and Jamila are Children of the Chairman of the Plateau State Muslim Pilgrims Welfare Borad, Alhaji Awalu Dankurma.
They were kidnapped while they were being driven to school by their driver, a fellow called Mohammed Sani.
Police officers today stormed the hideout of the gunmen around the Yan Doya Area of Jos where the school children were locked up and successfully extracted them without any casualties.
During the rescue mission, two of the alleged kidnappers escaped arrest but the police authorities have announced the arrest of the family driver, Mohammed Sani, who it claimed was a conspirator in the abduction.
Plateau State Police Commissioner Ikechukwu Aduba disclosed the latest on the kidnap saga to journalists in a briefing today in Jos.
THEWILL gathered that the police got a break when authorities decided to investigate the conversations between the kidnappers and family of the kids where it discovered that nothing was being said about a ransom for the driver who was also taken hostage alongside the kids. This got the police suspicious forcing it to take a closer look at the driver.
Further investigations led the police to where some of Mohammed's friends were staying and thereafter a rescue was executed.
The kids have since been returned to their family home where Alhaji Dankurma told journalists that he was glad to have them back and thanked God and the police for a job well done.
Meanwhile, the father of the released kids told newsmen that the kidnappers called from an unknown number demanding for 20 million explaining that his children can be release only if he cooperates with them and he promised to cooperate with them.
According to him, at the end of the day his children were released without him paying the ransom money.