CHIME SALUTES JONATHAN ON ENUGU AIRPORT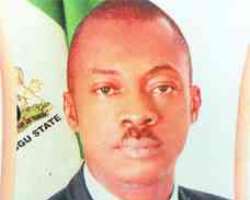 Governor Sullivan Iheanacho Chime of Enugu State has expressed immense gratitude to President Goodluck Jonathan for upgrading the Akanu Ibiam Airport, Enugu to an international status.
In a statement signed by the state's Commissioner for Information, Culture and Tourism, Chuks Ugwoke, the governor explained that this singular gesture had once more demonstrated that the president had the interest of the South-east at heart.
'On behalf of the good people of Enugu State and indeed the entire people of the South-east geo-political zone, I want to thank Mr. President for upgrading the Akanu Ibiam Airport to am international status. He has shown, once more, that the interest of the South-east zone is uppermost in his heart.
'The benefits of such a gesture are innumerable. We are eagerly looking forward to that historic day when the first international flight will land and/or emanate from Enugu. Without doubt, it's a thing of great joy and relief that our people will, from that day, begin to fly in and travel from our airport to any part of the world.
'Because of the entrepreneurial spirit of an average Igbo man, this is going to be one of the busiest international airports in our country. It will greatly help our businessmen and women as well as our people and those in the Diaspora, who will no longer need to make use of other Nigerian airports before arriving or travelling out of the country.
'Again, I salute the president over the pace of rehabilitation work being carried out at the airport. It only goes to demonstrate his commitment towards strategic repositioning of the South-east. I also congratulate the Minister of Aviation, Mrs. Fidelia Akuabata Njeze, for the upgrading of the airport and thank her for her roles towards ensuring the completion of the extension works being carried out at the airport.'
The South-east is the only geo-political zone in the country without an international airport. The upgrading of the Akanu Ibiam Airport into an international airport was one of the requests made to President Jonathan by a South-east delegation that visited Aso Rock recently.
While responding, the president had pledged to upgrade the airport and to muster whatever resources to ensure that the ongoing extension of the airport's runway is completed on schedule.
The length and width of the runway were being extended to accommodate wide body aircraft that would make use of the airport now that it had been officially pronounced as an international airport.