BENITEZ SHOULD COPY ME – MOURINHO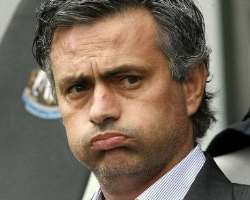 Jose Mourinho
Real Madrid boss Jose Mourinho believes his successor at Inter Milan, Rafa Benitez, shouldn't change anything at the club.
The Special One has frequently told reporters that Benitez has an easy job because he inherits the team he built.
Speaking to France Football, Mourinho said, 'Benitez can do what he wants, but I think that he should have the intelligence to profit from the work that I did before him instead of wanting to change everything.
'I have always done that every time I have arrived at a new club and it's what Pep Guardiola did when he took Rijkaard's place. For me, this is being an intelligent coach.'
When asked to explain why he took the Real Madrid job, Mourinho said, 'If I didn't love it here I would have stayed at Inter.
'It would have been easy to win new titles there. The team was already built. Real are a club with a special DNA, a winning DNA. Here there is an incredible tradition. It's a legendary club. I had the desire for it and I signed.
'The cycle at Inter is over and I am starting a new challenge. When a chapter closes, I know how to turn the page.'
Mourinho then gave his reaction to Zlatan Ibrahimovic's move from Barcelona to Milan.