ICC SET TO BRING IN TEST LEAGUE AND PLAY-OFF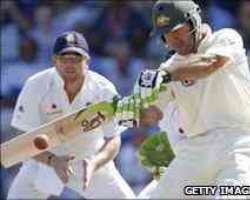 The Ashes is one of the few Test series with something meaningful at stake
A Test league and play-off system intended to make all matches more competitive has moved a step closer.
Results will be fed into an official table to determine the top four teams, who will then go head-to-head to provide an official Test champion.
The development come in the form of six recommendations to be delivered to the International Cricket Council board from its chief executives' committee.
The ICC board is expected to rubber-stamp the plans in due course.
The chief executives' committee, meeting in Cape Town this week, provided the following proposals:
- The play-off should be held once every four years to determine the Test champion team with a request to hold the first such play-off in 2013 606: DEBATE
I can't help thinking one of the over-riding factors in getting this through ASAP is to help deter further corruption
BBC Sport's Oliver Brett
- The future tours programme should also consist of a one-day international league, the first to run from April 2011 until April 2014, culminating in the crowning of a one-day international league champion. This would run separate to the ICC Cricket World Cup
- That the ICC Board should consider a 10-team format for the ICC's flagship event, the ICC Cricket World Cup, from 2015
- That the ICC Board should consider a 16-team format for the men's ICC World Twenty20 from 2012, with the women's event continuing to run alongside
- The introduction of Twenty20 International rankings table as soon as this is justifiable
ICC Chief Executive Haroon Lorgat said: "Restructuring international cricket is a significant strategic challenge and one that must be dealt with.
"Achieving balance and unanimous agreement is not easy but it is a very important piece of work that requires a strategic response.
"We now have the potential to follow international cricket that is even more exciting."