SO MUCH LOVE, TROUBLE FOR KARATE KID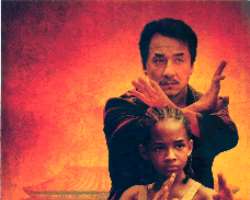 Jackie Chan and Jaden Smith
Jaden, son of popular American actor, Will Smith, is going places. The 12-year-old boy who debuted as an actor in his father's flick, The Pursuit of Happiness a few years ago, has proved with the new film, Karate Kid that he's not a fluke.
A sneak preview of the film at the Silverbird Cinema in Lagos during the week signified what awaits movie lovers, most especially, children on Friday, September, 3 when it hits the cinemas in Nigeria and other West African countries.
The Karate Kid known as The Kung Fu Dream in China, Best Kid in Japan and South Korea is a 2010 martial arts remake of the 1984 film of the same title.
Starring Jaden Smith, Jachie Chan, Taraji P. Henson, Wenwen Han and Rongguang Yu among others, the film tells the story of Dre Parker (Jaden Smith), a 12-year-old boy living in Detroit, USA whose mother, Sherry (Taraji Henson) gets a job in China. Once in China, Dre misses home and wants to go back to the US. His mother tells him that China is home now, and he must learn to accept his new home.
However, Dre begins to like China as he falls in love with his classmate, Mei Ying (Wenwen Han). Dre's feelings for Mei Ying are seen by Cheng (Zhenwei Wang), the class bully who is out to stop it. Cheng puts Dre to the ground with ease using his Kung Fu training. Dre doesn't have a chance using the little karate that he knows, and Cheng proves it the next time he sees Dre.
Dre is getting beaten badly before Mr. Han (Jackie Chan), the maintenance man, secretly a Kung Fu Master, stops the fight. Dre persuades Mr. Han to teach him Kung Fu. With this knowledge, Dre must now face down Cheng in a fight to win his respect in a Kung Fu tournament. The duel eventually takes place and Dre wins by knocking out his opponent.
Indeed, the film is an improvement on the earlier version. Buoyed by playful and innocent romance from Dre and Mei Ying, the film shows it is not all bullying and kung fu fight. In fact, Jaden proves to be a consummate child actor and entertainer. And the chemistry that flows between him and his karate teacher, Jackie Chan makes the movie much more enjoyable.
Directed by Harald Zwart and produced by Will and Jada Pinket Smith, Karate Kid is certainly a box office hit. From its advance release on Friday, September 3, 2010, movie buffs can get to watch the film simultaneously at all Silverbird Cinemas in Lagos, Abuja and Port Harcourt. It will also be at Genesis Deluxe Cinema, Lekki, Lagos and Ozone Cinema, Yaba, Lagos.