2011: POLITICAL PARTIES CAN HELP INEC – NWODO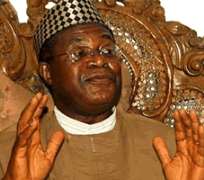 The National Chairman of the ruling Peoples Democratic Party (PDP) Dr. Okwesilieze Nwodo yesterday charged political parties in the country to help the Independent National Electoral Commission (INEC) achieve free, fair and credible elections by ensuring internal democracy in their various parties.
Dr. Nwodo who spoke during a one day interactive session between the Independent National Electoral Commission,(INEC) and the leadership of Nigeria's political parties in Abuja said the only way the Parties could help INEC achieve the desired result was to try and keep their houses in order.
'All the parties have the problem of internal democracy; we must tackle it to help INEC achieve the desired free, fair and credible election.'
A statement from Nwodo's Media Assistant, Ike Abonyi quoted the National Chairman as saying 'we all have confidence in INEC leadership; nobody is going to direct INEC and police to do wrong thing, but we must put our houses in order.'
Nwodo said the PDP is going through a re-engineering aimed at returning the peoples confidence and urged other parties to do the same. 'Let us turn around what is going on in our parties and help INEC that appears committed to get it right this time.' Meanwhile, Nwodo has urged women to play more active roles in politics and ensure good governance in the country.
The PDP National Chairman gave the advice while receiving a group of women under the umbrella of 'Umuada Igbo Nigeria' in his office at the Wadata Plaza. Dr. Nwodo said Nigerian women should ensure that they play the role of moderators in the party. He urged them to ensure that Ndigbo leaders play by the rules and reduce acrimony.
Presenting his address during the courtesy call, the founding President of the organization, Dr. Kate Ezeofor urged the National Chairman to work with the fear of God. 'We urge you, our brothers to work with the fear of God and be patriotic, we advice you to serve the PDP but more so Nigeria with humility, justice and fair-play.'