WE 'RE READY FOR WAR IN GUINEA – OBUH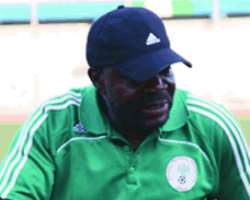 PCoach of the Flying Eagles, John Obuh
Coach of the Flying Eagles, John Obuh, has revealed that he has prepared his team to expect the worse in Sunday's return leg qualifier of the African Youth Championship against Guinea in Conakry.
While other African youth football powerhouses such as Ghana and Cameroon were posting emphatic home victories, the Flying Eagles could only manage a 2-0 home win over their Guinean counterparts in their first leg. They will now be hard pressed to get a result away from home to reach the next round of the qualifying series.
'We expect a very hostile reception in Guinea and we have prepared the boys for that accordingly,' Obuh said.
'It was a great opportunity that we got a chance to play against our opponents in the first game because the video clips we watched before the match did not give us a good idea of the team.'
Despite going down to two quick goals at the start of the second half, the Junior Syli Stars took the game to their hosts at the Abuja National Stadium and would have reduced the deficit if not for the brilliance of Nigerian goalkeeper, Paul Dami.
The Flying Eagles got a boost in their build-up for the second leg when they defeated a Super Eagles selection who are preparing for a friendly against South Korea later this month.
'The match against the senior team was just part of training. We were satisfied with the performance of the team, but the result was not important,' insisted Obuh, who has picked 18 players for the trip.
'On Sunday, we must do a lot more, so as to qualify for the next round of the competition.'
The Nigeria U20s departed Lagos for Guinea Monday evening.