I Deserve Brazil World Cup Call-up, Martinelli Insists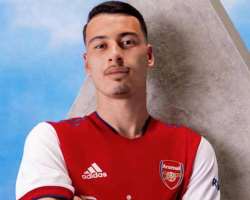 Gabriel Martinelli insists that he deserves his call-up to Brazil's World Cup squad.
The 21-year-old who made his debut for the South American giants as a substitute against Chile in March but has impressed coach Tite to make the tournament squad ahead of the likes of Liverpool's Robert Firmino.
A video even began circulating on social media purporting to show Brazil's Neymar reacting with surprise to Martinelli's inclusion when the squad was announced.
Martinelli said: "I hope it was a good surprise. Neymar is a hero of mine, he's a guy all the youngsters look up to and I'm no different. It's a pleasure to be here playing with him. My season is going well, we (Arsenal) are on the top of the Premier League, we are doing well there, and I am confident."
"I don't pay much attention to people that don't know me, that don't know how hard I work. I just have to focus on football, listen to my family and the people close to me. That's what's most important to me," he added.
Brazil are one of the favourites to win 2022 World Cup and they face Serbia, Switzerland and Cameroon in Group G.