Germany Team Chief Describes World Cup Timing, Beer Ban And Armbands Plan As 'unfortunate'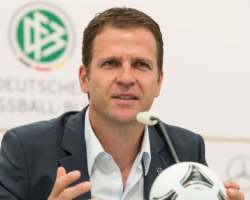 Germany team director Oliver Bierhoff has said that the timing of a beer ban announced two days before the World Cup start in Qatar this week was unfortunate and would create unease among fans.
Bierhoff also said FIFA's plan to use a number of captains' armbands with different slogans was equally baffling given that Germany and some other European nations would wear their own anti-discrimination 'One Love' armbands to promote inclusion.
For years, Qatar had said alcohol would be accessible to fans at the tournament, but FIFA made a last-minute reversal on Friday, two days before Sunday's kickoff.
The Qatar World Cup is the first to be held in a Muslim country with strict controls on alcohol, the consumption of which is banned in public.
In a news conference, Bierhoff said: "This is indeed an issue. It is what I have said also about planning in relation to the captains' armbands. Such a short-notice decision (on beer) is unfortunate and creates unease. This (beer) is a part of the tournament but I cannot really understand the decision and the timing because there was enough time to take such a decision earlier."
On the latest FIFA armband plan, he said: "I heard about that and the short notice is a bit surprising and it's as if FIFA does not have a clear position. We have a clear position. I will see how this develops and we will discuss with the other nations from Europe. We expect to be allowed to wear the (One Love) armband."