Atalanta Can Beat Napoli, Says Gasperini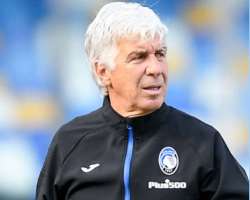 Atalanta manager Gian Piero Gasperini is adamant Serie A leaders Napoli can be defeated despite Luciano Spalletti's side being on a 12-match unbeaten run.
Atlanta have lost just once in the league this season and are second in the standings, five points behind Napoli who they host on Saturday.
Gasperini told the media: "We are working well, there is a good spirit in the team and there is a nice atmosphere overall. Our (place in the) table and our results are very good. At the beginning of the season, I think it was hard to predict this would be a top-of-the-table clash."
"(The loss) says they are not unbeatable although they deserved more against Liverpool. When you lose you pay a little more attention and react (better). Sometimes after a victory you have enthusiasm but you pay less attention to uncovering what the difficulties were. We will have to do something important to get a result. It will be important not to give space to their fast forwards but also not to sit too deep. We will need a focused display," he added.