Cr7  Receives Second  Saudi Offer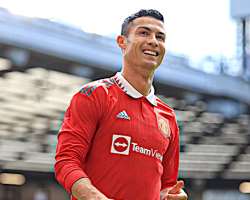 Manchester United star Cristiano Ronaldo still remains a topic all summer with his loyalty to Man U in question as he asks to exit. The Portuguese is thought to be keen on joining a Champions League club this summer, but with virtually no takers remaining, he could be forced to reconsider his options.
At 37 years old, Ronaldo evidently feels as though the latter years of his career would be best spent in Europe's top-tier competition. Incredibly, he has featured in the Champions League for almost 20 consecutive years and has cemented his legacy as one of the greatest players of all time.
While an unnamed Saudi club were unsuccessful in a lucrative approach that would have seen the Man Utd attacker bank over £2,000,000-per week for the next two seasons, another reports claims that the offer to head to the Middle East will remain on the table until after the World Cup.
Having a back-up option could be handy for Ronaldo, given that a host of top sides have withdrawn from the race to sign him in recent weeks. But priority comes to play as his only beef with Man U is a spot in Champions league which Saudi teams does not qualify for.