Djokovic To Play Norrie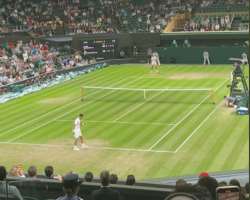 British number one CameronNorrie produced a remarkable fightback to defeat DavidGoffin 3-6 7-5 2-6 6-3 7-5 and reach the semi-finals of the 2022 Wimbledon Championships.
A high unforced error count and low first-serve win percentage characterised Norrie's first set in front of the home crowd, and the British number one soon found himself a set and a break down.
Norrie soon began to look a bit more like his usual composed self on the court, and while Goffin managed to serve to stay in the second set once, he could not do a second time after sending a return from the Brit into the net.
It took no time to impress the crowd as they were soon stunned into silence after Norrie's errors returned to hand Goffin a double break in the third set, and despite earning one break back himself, the Brit would go 2-1 down in the match with a whimper.
A crowd-inspired Norrie would break after a mammoth eighth game in the fourth set before holding to take the match all the way, and the Brit would edge a tight final set to spark jubilant scenes on Tuesday evening.
Norrie will now face men's number one seed Novak Djokovic , who was on the brink of a shock elimination from the tournament in the quarter-finals to 20-year-old Jannik Sinner , but the reigning champion came from two sets down to post an astonishing 5-7 2-6 6-3 6-2 6-2 victory.
With the Duke and Duchess of Cambridge watching on, Sinner initially struggled with his serve as Djokovic raced into an early 3-0 lead in the first set, but the Italian came storming back.
An uncharacteristic double fault from Djokovic saw Sinner break the champion's serve and level proceedings at 4-4, after which the Serbian was forced to save another break point before holding.
Sinner nevertheless broke once more and sealed the first set with a powerful serve that Djokovic could only return into the net, and the ruthless 10th seed capitalised on a number of Djokovic errors to draw first blood in set two.
A successful challenge from Sinner gave him the double break and the opportunity to serve for the second set, and the 20-year-old clinched it with aplomb - serving right into the corner as Djokovic returned long.
However, Djokovic - in a true champion's fashion - somehow sparked a magnificent turnaround in the third and fourth sets to set up a decider, and a flurry of aces saw him to match point before he held to love in his final game.