Messi will show his 'best version in history' next season- Al-Khelafi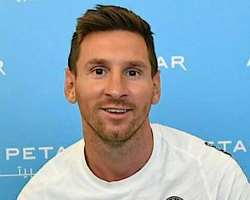 After putting an end to his chapter at Barcelona last summer, Lionel Messi exhibited a decline in performance debut season with his new club Paris Saint-Germain.
The forward failed to ignite the spark for PSG in the final third, ultimately becoming a part of the side that got knocked out in the UEFA Champions League Round of 16, at the hands of his Spanish rivals and current champions Real Madrid.
However, PSG owner Nasser Al-Khelaifi has recently come out in defence of his star player and has backed him to succeed in the coming season.
"There is no doubt that Lionel Messi has won the Ballon d'Or a record seven times, and it was not his best season," Al-Khelaifi.
Messi's numbers were indeed underwhelming this past season, with the attacker recording six goals in Ligue 1. However, the Argentine did score five goals in the Champions League while his 15 assists were critical in helping PSG clinch the Ligue 1 title.
"But after more than twenty years in Barcelona, he discovered a new country, a new city, a new league, a new team. A new culture. As well as his family, and he was injured also by the Coronavirus," he added.
Al-Khelaifi believes Messi is going to be back to his usual best in the coming season, after struggling in his first year in the French capital.
"It was not easy for Messi last season, but next season we will see the best version of Messi ever," said Al-Khelaifi, who fired shots at Real Madrid in the same interview, questioning the Spanish champions for celebrating the Champions League, just a year after denying the competition's credibility