PDP WORSE THAN KIDNAPPERS, SAYS BUHARI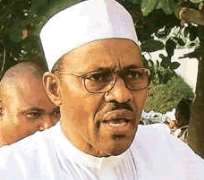 Buhari
Former head of state and presidential aspirant of the Congress for Progressive Change (CPC), General Muhammadu Buhari has warned Nigerians to beware of the Peoples Democratic Party (PDP), saying the party is worse than kidnappers.
Speaking with a group of select journalists in Kontagora, Niger State, the former leader wondered why Nigerians were just waking up to the issue of kidnapping in Nigeria when the four journalists were kidnapped.
'I thank God for the journalists, and commend the police for effecting their release. But the truth is even the PDP government in the country is worse than kidnappers, and unless Nigerians stand firm against the kidnapping of their votes, the party will continue to rig itself into office.
'You can only do this by policing your votes from the polling booth up to the venue where the results are finally announced', Buhari said, urging his supporters to emulate the people of Bauchi, Kano and Lagos states in the defence their votes. 'In these three states, the people remained resolute in the defence of their votes and that is why it was impossible for the PDP to rig in those three states,' he said.
Buhari said he was in Kontagora to open the office of his party in the town, 'but see what it has turned into now, you can imagine when the INEC gives the go ahead and I come here for campaign,' Buhari said in apparent reference to the large crowd that graced the ceremony. The former military leader was also in Minna where he opened the state secretariat of his party before leaving for Abuja later in the day.
In another development, the former head of state, urged the Federal Government to as a matter of urgency effect the release of Major Hamza Al Mustapha, the Chief Security Officer to the late General Sani Abacha who has been in detention since 1998. Buhari in an interview with journalists in Kontagora said 12 years was too long a time to try an offender, pointing out that the long period had removed all elements of justice from the trial.
Similarly, former military president, General Ibrahim Badamasi Babangida had called on the Federal Government to show compassion and release Major Al Mustapha, 'I am joining thousands of other Nigerians to plead that he be released. Though one has been working behind the scene to secure his release. I know the boy and I know his family. Quite a lot o people depend on him.
'I am not saying this because I want his vote, but because it is not fair to deny a family their breadwinner. 12 years is a long time. He should be released,' IBB said.