HOW TO MOVE NIGERIAN FOOTBALL FORWARD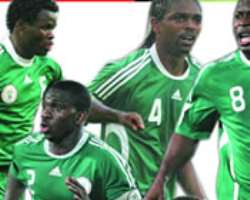 There is no let up to the outpouring of emotions over the poor performance of Nigeria at the recently concluded FIFA World Cup in South Africa. Stakeholders, who are gradually coming to terms with grim reality, are pointing the way forward.
Speaking to Saturday Sunsports early in the week, Professor Emmanuel Ojeme, Ayo Oshitelu and Ambrose Duru, all agreed that the country's participation at the football festival which took place the very first time on African soil, ended in a 'tragedy' for the Super Eagles. However, they maintained that the country needed well thought strategies on sports and football in particular to do well at subsequent events. According to them, Nigeria can only get things right if the right people were brought into the swing of things.
Describing Nigeria's outing at the mundial in South African as 'woeful', Professor Ojeme, a former Nigeria Football Association (NFA) board member regretted that the performance of the national team had ' badly robbed off on the image of our country.' Veteran sports journalist and one time sports editor of the Punch Newspapers, Ayo Oshitelu, expressed similar disgust, insisting that it was Nigeria's worst World Cup appearance in history. Calling the outing ' a tragedy', he said the Eagles' failure to win a single match was totally unacceptable, noting that the squad piloted by Swede tactician, Lars Lagerback, did not commit to national course and therefore 'lacked character.'
The team's effort may have come to him as a surprise but not to Duru, a former captain and later coach of Julius Berger FC of Lagos. The later told Saturday Sunsport that he ' was not surprised at the result we got in South Africa.
'I knew it right from the outset that we weren't going to do well. We got it all wrong when we hired a coach rather too late for a tournament as big as the World Cup. We then followed up with another mistake of failing to play quality friendly matches to adequately prepare the team. As so left to me our preparation was too poor.
' The lesson in all that happened is that managers of our football need to sit down to think again. First, we need to believe in ourselves. We need to convince ourselves that we are capable of taking charge of our football. We need to ensure that the right people are given the responsibility of managing our football. In doing this, more focus has to be on our local league. We need to develop it and ensure that it starts producing the right calibre of players to win laurels for the country. Once we develop our league, we must ensure that we play our players based on their current form rather than their past exploits.
Speaking on the way forward for Nigerian football, Oshitelu a sports analyst noted that the country has to ensure that it makes its football development-oriented, and called on President Goodluck Jonathan to put a blanket ban on further hosting of tournaments in the years ahead.
' First, let President Goodluck Jonathan ban hosting of international competitions of all manners. They are a distraction to Nigerian sports,' he said, adding 'We hosted COJA, and later the World FIFA U-17 Championship, what did we gain from all that? Just nothing! Rather than gain something, the events ended up as job for the boys and conduit pipes for organisers to siphon money. With all that gone, we must concentrate now on repositioning the league, and making it a lot more vibrant. A country's national team according to Pele of Brazil is as good as it domestic league. We need to develop our coaches and ensure that they impact positively on our football. Let's begin to train them and then charge them to go out and fish out players from the academies and from the grassroots.'
In order to achieve this, Professor Ojeme who is the president of National Association Physical and Health Education, Recreation, Sports and Dance (NAPHER.SD) said, ' We have to adopt the right strategy for our sports development. To be able to do this, we have to ensure a level playing field for the right people with relevant knowledge and experience to play various roles for the good of our sports industry.'
He therefore called for a conscious return to school sports, insisting that the sector holds the key to the country's sporting development. 'Right now, we need to make conscious effort to locate sports in our school system. At the moment, that sector is neglected. That is where we need to ensure that diligent people are engaged to ensure that they fish out and develop talents for the country in the year ahead,' he concluded.