St. Paul Peters Finally Ties the Nuptial Knot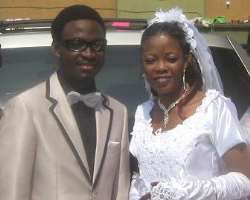 Popular gospel musician and fearless Lagos Prophet, St. Paul Peters, whose real name is Adedoyin Oluwafolahanmi Agboola finally took his missing rib (sweetheart), Abimbola Abiola Beulah to the altar on Saturday 17th day of July 2010. The holy solemnization took place at Christ Apostolic Church Alabukun (Blessed Chapel Ikorodu), District Co-ordinating Council Headquarters, Ikorodu, Lagos State.
The wedding recorded the presence of hundreds of men of God from different denomination, gospel musicians, press men, family members and so on.
At the wedding reception the parents of the groom who are also senior Pastors in Christ Apostolic Church, Pastor Peter Agboola profusely rained blessings on the latest couple, praying God for the two love birds in the areas of fruits of the womb, financial breakthrough, divine protection and every other blessings attached to marriage.
With shades of green contrasting brilliant white all around the venue, it was a beautiful setting for a truly unique ceremony. The bride, Abimbola glowed in her single silk-soothing wedding dress while St. Paul Peters in his French suit outlook beamed with pride and happiness each time they locked eyes. It was indeed eventful and the presence of God was equally felt at the reception arena. Marriage is somewhat considered as most challenging of all the institutions in life. But there are very few people who have found happiness through marriage in life, without mincing words St Paul Peters is one of those selected few who have found unending happiness in marriage as ordained by God.
It would be recalled that St. Paul Peters, was the Prophet who actually predicted the death of late President Umaru Yar'Adua; back then, St. Paul peters urged other men of God to fervently pray for the ailing President such that his life could be spared, but unfortunately the prayers could not revive the life of the President of most populous black nation in the world (Nigeria). Apart from this key milestone many have received their blessings under the ministration of this young and astute man of God.
St. Paul Peters
St. Paul Peters