LEPA SHANDY'S MARRIAGE CRUMBLES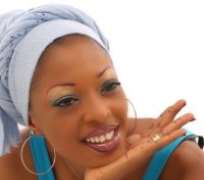 Mother of one, Shade Omoniyi popularly called Lepa Shandy has a lot of question to answer while she has failed to readdress the reason she didn't correct or ask for apologies when she was addressed by a certain compere as single-mother Ms. Shade Omoniyi without adding her marital name Kazeem at a recent event in Lagos.
This tenacious Osun State born movie idol who was discovered by Bayowa's Gbenga Adewusi, though, not without checking out what she's got beneath her thighs, is said to have separated from her about five year old marriage to Mr. Kazeem , a Lagos based businessman.
A source who whispered this to our eardrum recently said Shade, from the look of things, has joined the league of Nollywood actress whose marriages have collapsed and also that she has already packed out of her matrimonial home.
If information at our disposal as regards what led to the crash in her marriage is anything to go by then we shall tell you more about it as soon as we gather other details.