AC WILL SURPRISE NIGERIA – LAI MOHAMMED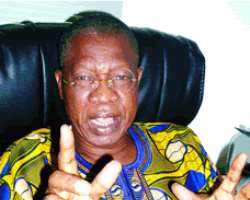 Mohammed
National publicity Secretary of the Action Congress (AC), Alhaji Lai Mohammed has revealed that the party is making move to surprise Nigerians as it gears up to change its name from AC in order to accommodate other political parties that intend to team up with the AC.
To actualize its dream, the party has reached an agreement with other stakeholders in the project that AC should apply to the Independent National Electoral Commission (INEC) for a change of name.
Alhaji Mohammed explained that the decision was reached because it would take time for the AC and its political allies to succeed in asking INEC to register a new party. It will also take a long time if the parties attempt to merge because it would require all the parties involved to go to the convention of their various parties. If that is done and the parties apply to INEC, the 2011 election might have come and gone before they succeed.
The AC spokesman said his party is impressed with the appointment of Attahiru Jega as INEC chairman. His party, he said, would have preferred a situation in which INEC officials are appointed by a neutral body such as the NBA or the NJC.
He also spoke on the registration exercise to be embarked upon by the newly appointed INEC officials and other national issues.
Many groups including SNG, NLC and ASUU have indicated their intention to take part in the proposed voter's registration exercise. What do you think as spokesman of AC?
It is a welcome development. If NLC, SNG and other civil organizations say that they are so interested and they want to play a contributive role in the next voter's registration, it is a welcome development. We will only advise them to liaise with INEC and define what role they can play. For instance, even if NLC is such a very organized group, they can even police the entire registration exercise.
The SNG can probably raise fund and use their connections abroad to give capacity training to those who are going to do the registration. As many groups as possible that are patriotic that want to assist INEC in giving us a credible voter's register should be encouraged.
With the movement of Atiku Abubakar and his sympathizers out of the party, is the party not depleted?
You see, in politics, we always say that a thousand friends are not enough and one enemy is too many. In other words, it is all about people. But frankly speaking, as much as we would not have loved to lose Atiku and his supporters, I don't think our party is in any way weaker for it. If anything, our party is much more focused by now. Our party will soon come out with a statement that will shake the political landscape of this country..
We have moved beyond the era of Atiku leaving AC. I am sure you are aware that our party has entered into a merger talk with other political parties. We have PPP as it is in the group. We have the integrity arm of the ANPP and we have some members of PDP coming in. The emphasis is not on group; the emphasis is on the quality of the people and the new perspective of our political party. I want to assure you that in the next three or two months when we would have finished our re-organization and we would have done our convention and our primaries, Nigerians would be in for a very pleasant surprise.
Do we interpret that to mean that a new party is in the offing?
There will be a merger and AC will go for a name change.
So, Nigerians should expect a brand new party soon?
Brand new, no. We are going to have a party that will have a broader base, a better perspective and ideology-driven. We will have a party that would go out with specific programmes to appeal to the youths, women and professionals. The party that will open up and be seen as a party for all Nigerians.
Specifically, Nigerians should expect a merger with some other parties?
I've made it clear already that we have been meeting with the PPP, some members of the ANPP and some PDP. But the word merger is often used in very loose manner. If you talk of merger in the statutory sense, there are procedures you follow in a merger. Given the shortness of time, we have opted not to go through that system. But we have agreed with all participating parties that AC will go for a name change which is less complicated and which we can achieve within a short time.
For instance, if we go for a merger from the statutory point of view, INEC must be given notice of the merger at least six months before the next election. Coupled with the notice we must give the INEC for the convention, the different political parties will also have to give a notice to INEC of their convention at which they will ratify the merger in which they will pass a motion for the merger. We do not want to go through that process. All the parties have agreed that what is important is that we are working together. We've agreed on a name change, which we will now apply for at our convention that we have agreed to change to APC.
Would your brand new party include some top shots in the PDP?
Why are you in a hurry?
Nigerians would want to know
I think all this will be in the open in the next couple of weeks. Don't forget also that this will involve a lot of consultation and consolidation. We are almost through with it.
There seems to be dominance of South West leaders in AC. Some people want to refer to AC as a Yoruba party.
People could be very mischievous. In their mischief they expose their bias and ignorance. How can anybody honestly say AC is a South West party? Who was the presidential candidate of AC? Who are the leading lights of AC? We had Alhaji Lawal Kaita, Duben Onyia, the late Abubakar Rimi, Ghali Na'Abba, Tom Ikimi, Asiwaju Ahmed Tinubu, Adams Oshiomhole, Okocha, Shetima and Gwadabe. There is absolutely no part of this country that was not represented by what you call the juggernauts.
Now, unfortunately because we do not have a culture of consistency in our politics, the moment a party loses election, what you witness immediately is an exodus of the party that lost to the winning party.
It did not only happen to AC. The ANPP lost governors to PDP. The governor of Zamfara was elected on the platform of ANPP. He migrated to PDP. The governor of Bauchi did it. Nobody has accused PDP of being a northern party. Nobody has accused PDP of killing democracy. Why? As we are speaking today, who is the National Secretary of AC? He is Dr. Bugaji Husman. Who is the National Organizing Secretary? Nkechi. Who is treasurer?
People are just being mischievous. When they find it difficult to logically attack you, they go by being illogical and they play to sentiment. Tinubu is a pillar of AC. Tinubu's consistency does not turn AC into South West party. Am amused sometimes when people make such ignorant remark.
What is the position of AC on the appointment of the INEC chairman, Attahiru Jega and other federal commissioners?
We made our position fairly clear. We are quite comfortable with the pedigree of Professor Attahiru Jega. I think most Nigerians agree that he is a man of integrity. However, we believe at the same time that the manner of appointment would not have been done the way it was done. We believe in the independence of whoever would be the chairman of INEC and to that extent, we would have preferred that a president who is a politician himself who may contest election would not have made the appointment. Even if he were not going to contest, if he does not even contest, his party would be in the next election. To that extent, we still think it would have been better if the Uwais recommendation were used to the letter in the appointment of the INEC chairman. We've also expressed fear that Attahiru Jega is one out of 50 commissioners.
You know we have one commissioner in each state, and we have one in Abuja making 37. We have two commissioners from each zone. We actually have 50 commissioners. One man, no matter his pedigree, no matter his intention, unless he gets the right framework, he might not succeed. What do we mean by this framework? We mean that even though those who are supposed to assist him must be people of integrity like himself. This is where we have problem. If our memory will serve us, you will see that over 70 per cent off electoral commissioners that served under Maurice Iwu are still in the system. One way or the other, many of them have been part of the rot when Iwu was INEC Chairman.
We believe that Mr. President, if he were sincere, would dispense with the services of the commissioners that served with Iwu. We've also expressed apprehension and the fact that even the process for nomination was so faulty that card-carrying members of the PDP and members of their Board of Trustees found their way into the list. Fortunately we've been told that Mr. President has withdrawn such names. T hose are the ones we know. What of others who are quiet sympathizers of PDP?
Finally, we've also advised Professor Attahiru Jega to insist on a complete new voter's register. He cannot tinker with the register at hand. It is like a house whose foundation is faulty. He can't repair it. He will have to destroy it and build a new one. The voter's register we have today is completely unreliable, and no attempt to update it will make any difference. Without a voter's register, it is clear you cannot begin to talk of a free and fair election.
What is the ideal process of selecting electoral officers?
What the Uwais panel recommended which we subscribe to is that an independent body, it could be NBA or NJC should advertise and set criteria and the applications would be vetted by this independent body who shortlists three candidates whom they will now send to the president who will now pick one of them and submit the list to the council of states who will now approve one of them and send them to the National Assembly. At the end of the day, the president still has the final choice. But clearly that is not his product. The raw material is not his and the product is not his. It is what the system has thrown up. We believe that he could act in a way that the president can also insulate himself from criticism of bias.
What do we expect?
We are talking of institutional framework, which is faulty. Even if all the INEC commissioners are God-fearing and the register is faulty, what can they do? That is why we are talking of fundamental change. Without it, we cannot start talking. We are not in a hurry to castigate anybody or destroy the character of anybody. But clearly those who have been part of Iwu's administration cannot be expected to do better than what they did the last time round. That is why we are insisting that any commissioner who served with Iwu should be shown the way out.
What is your party doing to ensure there is a clean register?
We are a political party. All we can do is mobilize our people to go and register. Two: there would be objections, which means that at a point in time, either this voter's register has been compiled, it would be displayed and people would be able to go there and say this is my polling booth and X and Y do not exist. My name is not there. We cannot have 100 per cent voter's register. But for God's sake, let there be credibility in the voter's register. Especially when we had Mike Tyson in Ondo and another Powel in Bayelsa.