SPORTS MARKETING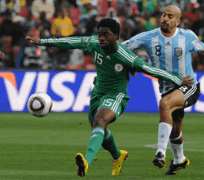 A scene from Nigeria, Argentina match
It might seem like a massive benefit for a sponsor to have its brand inserted in the name of a stadium hosting FIFA World Cup matches. An estimated 715million viewers in more than 200 countries watched the final of the 2006 tournament in Germany, giving it exposure on a par with the Olympics. However, not all commercial partners will get access to this massive global audience.
When the Argentina vs Nigeria game kicked off in Johannesburg's Coca-Cola Park on June 12, you did not hear TV and radio commentators referring to the soft-drinks company as the stadium's sponsor, and newspapers refrained from mentioning it in their match reports
Instead, media outlets used the ground's original name, Ellis Park, which it was given in 1928 by J.D. Ellis, who owned the land on which it sits. In 2008, Coca-Cola paid an estimated £30m for the stadium branding, so why will it lose this just when the eyes of the world are turned toward it? Enter the world of naming rights.
Hierarchy of sponsors
Coca-Cola is one of FIFA's six official partners, each of which pays an estimated £86.9million for the privilege. In return, the company gets pouring rights at match stadiums as well as pitch-side advertising hoardings. Crucially, the premium paid by sponsors of football's world governing body also secures them exclusive exposure, which is what prevents the stadiums from promoting their own tie-ups during the World Cup. Ironically, this ban extends to Coca-Cola's naming of Ellis Park, despite the company's relationship with FIFA.
Sponsorship research firm Front Row Marketing Services estimates that stadium naming-rights partners lost £13.6million in branding value during each televised game of the 2006 World Cup. Unlike South Africa, where stadium sponsorship is a relatively new trend, the FIFA ban affected multiple venues in Germany and Austria and led to brands such as AOL and Allianz losing exposure. The latter pays £5.1million a year for naming rights to the second-biggest stadium in Munich, so, for the insurer, the end of the World Cup could not come too soon.
The strategy of selling naming rights is sweeping the UK's sports stadiums. In the past six months, Lord's cricket ground announced it was considering a deal, as did the owners of Twickenham and Wembley Stadium. Tottenham Hotspur, Liverpool and Chelsea football clubs have also announced their intentions to sell the naming rights to their grounds – and with good reason.
Raising revenue
Liverpool's future has been the subject of speculation since its unpopular US owners, Tom Hicks and George Gillett, took over the club in February 2007, using a £298million loan from the Royal Bank of Scotland to finance the purchase. With its bottom line still burdened by debt, Liverpool now hopes to raise as much as £250m from a naming-rights deal to fund a move from its historic Anfield home to a new stadium.
Similarly, Chelsea owner Roman Abramovich has pumped £726m into the club. Although it is technically debt-free, as his loans have been converted into shares, it still needs a revenue boost to cover the huge wage bill for its players.
'Our stadium does very well at the moment in competing with the bigger and, in some cases, newer stadiums of our rivals,' says Chelsea's Chief Executive, Ron Gourlay. 'Yet, they have more possibilities in the long run than we do.'
He explains that the club cannot expand its Stamford Bridge home ground and 'we cannot sell any more tickets to Chelsea fans, as we sell out virtually every match within our limited capacity'.
Gourlay has proposed a naming-rights deal that would keep Stamford Bridge in the title and raise an estimated £150million.
There is a precedent to support these sky-high projections. Liverpool and Chelsea have been spurred on by Arsenal's naming rights deal with Emirates airline which, with a total value of £100million over 15 years, is the biggest of its kind in the UK.
After 93 years at its cramped Highbury home, Arsenal decamped to its gleaming new Emirates stadium in July 2006, at a total cost of £390m. About half of this was financed by bank loans, with sponsorship deals filling more of the hole; about £100million remained, however. This is where naming-rights broker Jeff Knapple came in. As chief executive of Envision, an agency owned by the Wasserman Media Group, he has arranged sponsorship and naming-rights deals in the US worth more than £700million.
'In the case of Arsenal, we had a lot of things come together,' says Knapple. 'The team was on the rise, we had the benefit of London as a marketplace and we had a new stadium being built. That was an important factor, because Highbury is sacrosanct and we wouldn't have renamed that.'
Arsenal appointed Envision in March 2004, just as it was finalising the financing for the stadium. 'That proved to be beneficial because we closed the Emirates deal two years in advance of the stadium being opened,' he adds.
First deals
Naming-rights deals appear to work best when they are in place when a venue opens, as this encourages the public to connect the sponsor to the stadium from the outset. It also prevents objections from fans who might be attached to the heritage associated with a previous name. This is the key reason why naming-rights deals originated at the beginning of a 25-year period of explosive growth in US sports stadiums.
One of the first such sponsors was dairy foods company Rich Products, which funded the construction of a stadium for the Buffalo Bills American football team in 1973. While this became a common phenomenon in the US, it took more than a decade for the practice to cross the Atlantic.
In 1988, Scarborough FC renamed its Seamer Road ground the McCain Stadium, following a tie-up with the frozen-food company. Several other deals were struck across Europe, but initially these were mainly ad hoc affairs, comprising a mix of cash and benefits. However, this has changed over the past few years.
The danger is that some supporters may be unwilling to accept this kind of marketing in relation to entities with which they have an emotional connection. While people may be ready to accept hospital wings, libraries or museums being named after wealthy benefactors, some fans are upset when their team accepts millions of corporate pounds in return for the right to name a new facility.
'Nobody wants a 'Dick's Sporting Goods at Stamford Bridge' or 'Pizza Hut Park',' says Chelsea fan Mark Galinsky. 'I really don't like the idea of it, and I think we have to fight at every opportunity against the continuing commercialisation of the game.'
Similarly, Graham Agg, secretary of the international branch of Liverpool's Supporters Club, says: 'I just can't imagine going to somewhere like the Budweiser Stadium to support Liverpool, and I'm sure there are plenty who feel the same way.'
Another Chelsea supporter, Patrick Alexander, points out that opposition from fans could end up eroding the return from the deals. 'Do these clubs not understand that brands won't want to pay vast sums of money for stadium naming rights if the fans won't refer to it as 'brand X' stadium?' he asks. 'The value in stadium-naming rights is in (devising) a short name that fans will buy into. It is true that media outlets will be required to call it by its new name, but without the fans' buy-in, there will be no brand loyalty.'