Lulu, Ogunjobi Impeached As Nigeria Plans U-Turn On Eagles Ban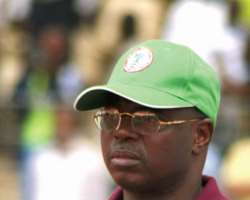 San Francisco, July 04, (THEWILL) – The wind of change blowing Nigeria football administration following the Super Eagles' dismal performance at the ongoing South African 2010 World Cup claimed another set of casualties today.
Nigeria Football Federation President, Mr. Sani Lulu, Vice President, Amanze Uchegbulam, including Technical Committee Chairman, Mr. Taiwo Ogunjobi, were all impeached from their positions today at a meeting of nine Executive Committee members of the Nigeria Football Federation in Abuja.
Nine of the thirteen members of the Executive Committee of the FA agreed to impeach the trio over financial misappropriation charges and poor leadership, to save Nigeria from a possible 10-year Fifa ban over government's decision to withdraw Nigeria from all international soccer matches.
Lulu and Ogunjobi have been in charge of football administration in Nigeria for over four years and are being held responsible for the decay in Nigerian soccer.
Fifa has been holding talks with Nigerian authorities on how to get them to have a rethink over Eagles' ban and FA dissolution order proclaimed by President Goodluck Jonathan.
With this move, the Executive Committee is expected to present a position to the Presidency which will likely reverse its earlier ban on the Super Eagles and save Nigeria from a Fifa ban.
Meanwhile, Mr. Aminu Maigari and Mr. Obinna Ogba have been appointed as the acting president and vice president respectively.
Dr Peter Singabelle, spokesman of the NFF executive, said the decision to impeach the three members was taken after the committee had deliberated on the issues affecting football in Nigeria and the future of the sport.
"We are taking this decision not because we have not been seeing certain wrongs for long, but the issue of impeaching certain members, including Lulu, had been in the pipeline.
"But other considerations and matters had always cropped up for us to leave it until later.
"Many Nigerians will recall that the leadership was almost impeached at the last Africa Cup of Nations in Angola,'' he said.
Singabelle said the committee will move for the federation's congress to ratify the impeachments.