I'M REAL AFRICAN WOMAN — OLUCHI ONWEAGBA – ORLANDI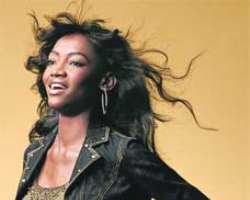 Oluchi
At 17, Oluchi took the whole of Africa by storm when she won the inaugural edition of Face Of Africa contest in 1998. This was the first-ever continent-wide model competition, organized by the South African channel M-Net in collaboration with Elite Model Management. Her victory attracted her a three-year modelling contract with Elite Model Management.
Since then, Oluchi has never looked back. She has become one of the most sought-after models in the world and has graced the cover of many internation magazines such as Italian Vogue, i-D, ELLE, Nylon, Marie Claire, Allure, and other national editions of Vogue around the world. She became the face of campaigns for Gianfranco Ferré, Gap, Express, Banana Republic, and Ann Taylor, as well as working for Victoria's Secret. Onweagba's runway experience has been with John Galliano, Christian Dior, Shiatzy Chen, Costume National, Chanel, and Giorgio Armani, among others, in London, Milan, Tokyo and Paris. She has worked with such notable photographers as Steven Meisel, Nick Knight, and Patrick Demarchelier.
Beyond modelling, she tries to serve as a role model for other aspiring talents in Nigeria, especially young girls. In 2008, she launched a modelling agency in South Africa, OModel Africa, with offices in Johannesburg and recently in Cape Town.
In August 2005, she exchanged marital vows with her longtime companion, Italian fashion designer Luca Orlandi. Oluchi believes that the best thing one can do is to marry her friend, which she did. In this interview with Saturday Sun , she spoke about her marriage, career and her contract deal with 'Natures Gentle Touch' hair product three years ago.
As a role model and a modelling consultant, how can you assist Nigerian women in the industry outside Nigeria?
How can we talk about taking them outside Nigeria when we have companies that can assist them here. Right now, Natures Gentle Touch Institute is talking about having an NGO for an up and coming women who don't have any one to help them out, or younger girls on the streets. We should give them the opportunity and they can learn in the school for free for about a year.
Young Nigerian models flood South Africa because they have more opportunity as a result of their Nigerian accent, but here in Nigeria models with foreing accent are given the greatest opprtunity. What is your stake on this irony?
I am actually hearing this for the first time from you. I want to hope that they are going there to gain more experience because the fashion industry on the continent of Africa is bigger in the Southern continent. So, I believe they go there to get more exposure and experience in the fashion industry.
Nigerian fashion industry is growing and can now compete with their counterparts outside the world, yet, the industry has no fashion capital in Africa. What is your opinion about that?
I will completely disagree with you by saying that we don't have a fashion capital. Nigerian women love fashion. I think the Nigerian fashion industry is still at its early stage. South Africa is way ahead of us. Even Senegal and Ivory Coast were ahead of Nigeria. The industry is growing. It takes years of dedication and hardwork. It must not be overnight so you have to be patient.
As a professional model, can you compare the Nigerian modelling industry with that of the outside world?
As I said earlier, on the African continent, Nigeria is still way behind. Johanesburg is a lot more structured and I think that it is because they have been around for many years. Nigeria will still get there but we don't have the talent and the skills like South Africans.
How have you contributed to the uplift of Nigerian models as a big name in the industry?
In the last five years I have been constantly coming to Nigeria. I support every event just because I don't want to be people from the past. Akeem Olajiwon, the Nigerian basket ball player who lives abroad, how often do you see him? Has he ever done anything? He does not even come to Nigeria. But I come back and I give my support. So, I think I have given 100 per cent of my support.
Any plans to establish a modelling agency in Nigeria?
There are already some established agencies in Nigeria. If I have to establish anything I will have to partner the existing ones, just as I did in South Africa.
How is it marrying a white guy?
Are you racist?
What is the secret of a successful marriage?
I have been married since 2005. I think it is just marrying your best friend more than anything. A man that will understand you; a man that will support you in good and bad times. My husband is my best friend.
How do you balance the home front and work?
I am an African woman. I am also a Nigerian woman. We grew up with multi-tasking. You learn to know how to work it out.
Tell us about your contract with 'Natures Gentle Touch'.
I signed with the company two and half years ago to be the spokes person for 'Natures Gentle Touch', and I have been working with them since then. I actually fell in love with the product and the company because it is one of a kind in Nigeria. When you talk about beauty, hair and cusmetics company in Nigeria it is very small. We don't have enough. It is not like the banking or telecomunications industry. So, when I was called to be part of it I was very excited. I met with the people. They are amazing and wonderful people to work with and work for. It's been a wonderful experience. I have no regret whatsoever. Now I like them so much that we just want to keep working.
What is the contract worth?
I wouldn't want to reveal the details of the contract. But actually what they do is to review the contract yearly. I hope they keep renewing it. Now I am so happy to be a part of it. They are amazing people. It is a small company with about six employees but they work really hard. They are passionate and they are making sure that the product is available in the Nigerian market.
How has it really been working with them?
As I said earlier, it has been an amazing experience for me. They are very dedicated to work with. They have their own factory here in Nigeria with their head office in Ikeja. Now they have opened a beauty school where I can do hair and every other Nigeria woman too. I think it is the first Nigerian hair company that has a hair institute; so young and upcoming women can come here and get a degree that can qualify them as hair dressers.
Do you really use 'Natures Gentle Touch' product or you are just promoting their business for them?
I came here from New York with weave on my hair, but I permed my hair here and we shot the whole day yesterday for their new campaign that will come out towards the quarter of the year. I have sent a box of the product to my mum and I am taking some back to NewYork with me. I don't use the product just to be the face. I do really use the product and I work with them to see how we can make it better and nice for our people, because our weather is different. Most women use 'Dark and Lovely' but it is made for African American women and their weather is different.