MUNTARI TALKS TOUGH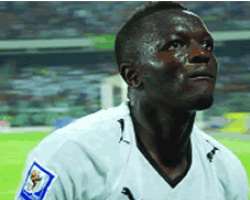 Muntari
Ghana and Inter's midfielder, Sulley Muntari, said despite reaching their ultimate target of getting to the quarter-finals in the 2010 World Cup, the Black Stars are poised to set another African record.
Ghana has joined Cameroon and Senegal as the African onlysides to have reached the last eight in World Cup history.
"Senegal and Cameroon did a great job, but we want to break records, we want to do well and we want to go further and see what happens next," Muntari said . The four-time African champions will be hoping to beat Uruguay today to set a new Africa record - a semi-final berth.
Muntari, who has lost his first choice spot in the team, owing to injury and disciplinary sanctions, was full of praise for the new members of the team.
"What the new guys have done is fantastic. Kevin [Prince Boateng], [Andre] Dede, they have done a great job. It's always been like that with the national team. "People have come in and done a great job," the 25-year-old said.
The Portsmouth's former player said of the Uruguayans:
"These guys are incredible in the penalty area and score a lot of goals in Europe and already they have shown that in this World Cup. "But we have to keep our guards here and prevent them from playing.
If we do that, we have a real chance."