Why We Lost To Arsenal - Lampard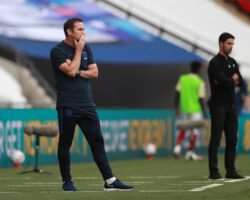 Chelsea coach Frank Lampard has revealed that his players were complacent and they didn't play well to win a final after losing 2-1 to Arsenal in the FA Cup final on Saturday.
Christian Pulisic gave Chelsea an early lead in the 10th minute before Cesar Azpilicueta conceded a penalty, which was scored by Aubameyang.
Azpilicueta limped off in the first half before Pulisic was also substituted in the second half after pulling his hamstring.
: "We started well for 10-15 minutes and we can only blame ourselves form that point. We got complacent, we took time on the ball like it was a stroll and we allowed them into the game. It's hard to get back into the game then. A lot of today is on us.
"All I can do form the sidelines is shout! There are elements in our game that we have worked hard on all year but that is in you as a group. Today we were slow, we played back on ourselves, invited pressure. We didn't play well enough to win a final.
"I'm not even thinking about next week, it all came together for us today, two hamstrings, a dislocated shoulder. It's the end of a long long season and it was the tipping point for us."
Chelsea will face Bayern Munich in their next match in the Champions League on Saturday.