10 HOTTEST WAGS OF 2010 WORLD CUP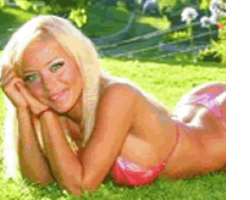 EVANGELINA
The term WAG is an acronym for Wives and Girlfriends. Usually when someone mentions WAGs, people would immediately think of the English team's wives and girlfriends. Their hotness became such distractions that made England's Coach Fabio Capello ban the team's WAG from the 2010 World Cup. This post will go beyond the English WAGs.
As a matter of fact, it's very tough to put together a list of the 20 hottest World Cup WAGs since soccer players date and marry the hottest girls compare to other professional athletes.
Count how many models dated soccer players compare to other pro-sports athletes' WAGs. So if you want to date a very hot girl, you might wanna consider playing professional soccer as your career.
If you think you're going to see Victoria Beckham or Ilary Blasi here, you thought wrong.
Here's why: Beckham and Totti are not even playing in the World Cup this year and there are so many other young talents that you've probably never heard of.
Alright,we are not going to waste anymore of your time.
Here we go!!!
ALENA
1 Gianluigi Buffon is one lucky man to be married to this Czech beauty. Alena represented Czech Republic at Miss World in 1998.
Throughout her modeling career, she has appeared in numerous magazines, including the cover of Playboy Europe and Penthouse Europe.
YESICA
2. Yesica is currently dating Juan Riquelme of Argentina. She appeared in Sports Illustrated swimsuit edition in 2006 and 2007.
ZAIRA
3 Zaira is an Argentinian Model who's currently dating Uruguayan player Diego Forlan. She does have a slight resemblance to the Brazilian Adriana Lima
IRINA
4 Irina Shayk is a Russian model who is currently dating the Portuguese forward Cristiano Ronaldo. Irina appears in Sports Illustrated swimsuit edition in 2007, 2008, and 2009.
SALOME
5. Salome Khorasanch. Besides being a model, this gorgeous beauty who was from Iran and raised in Belgium also works as a wedding planner as well as working for her family's glass business. She's currently dating Oguchi Onyewu who is playing as a defender for the U.S.A.
SUSANA
6. Susana Werner. This gorgeous model/actress is married to Julio Cesar of Brazil and they have two children together. Check out her official website for more.
ABIGAL
7. Abigall (Abbey) Clancy. She is the girlfriend of Peter Crouch of England. There are a lot of pictures of her on the internet… and I mean l-o-t-s
CRISTINA
8. Cristina De Pin. Cristina De Pin is dating Riccardo Montolivo of Italy. This Playboy Playmate was Miss March 2009 in Playboy Italia. She's launching her official website soon. But for now, you can check out her official Myspace page for more pictures and videos.
EVANGELINA
9. Evangelina Anderson. Evangelina is an Argentinian TV actress, a nude model, and Martin Demichelis' girlfriend. Lots of NSFW pictures of her on Google Image.
ROMANELLA
10. Romanella Amato. She started dating Javier Saviola of Argentina in 2008, when she was only 16.