Manchester United To Rival Inter And Newcastle For Aturo Vidal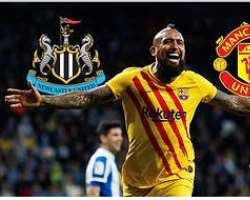 Manchester United are reportedly in line to rival Newcastle and Intermilan for the signature of Barcelona and Chile midfielder, Aturo Vidal, according to Mundo Deportivo.
The paper believes that with the possible arrival of Max Allegri at Newcastle, it could propel The Baggies in getting the Chilean international to play for the club.
The midfielder currently has a contract with the Catalan club till 2021 but still attracts interest from other clubs in Europe.
Also, Vidal is believed to have been long admired by the Nerazurri thus making them favorite to land the former Juventus midfielder who turns 33 in May.
In addition, the deal could see Barcelona send Vidal as part of deal to lure Lautaro Martinez to the Camp Nou, in order to reduce tj the transfer fee that the Spanish Giants would pay.
Meanwhile, Manchester United are according to the report, have an interest in Vidal but are willing to offer him a less juicy deal.