Ronaldo prefers Liverpool over Barcelona for UCL final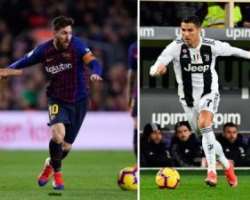 Barcelona may have won the first-leg of the UEFA Champions League (UCL) semi-finals against Liverpool, but Portuguese legend Cristiano Ronaldo still feels that it would be the latter side that enters the finals.
It was on Wednesday that a terrific display by Lionel Messi steered the Catalan giants one step closer to a place in the Champions League finals. The Argentine legend scored a brace in Barcelona's 3-0 win at the Camp Nou.
Meanwhile, Messi's long-time arch nemesis and Juventus star Ronaldo said that it is possible for Liverpool to nail down a finals' spot, despite the harrowing first-leg defeat.
It is Diario Gol that reports that the Real Madrid legend is all for the English giants to produce a brilliant comeback in the second-leg semi-finals' fixture, scheduled be held at the Anfield next Tuesday. According to the agency, Ronaldo reportedly recollected what happened to Barcelona in the UCL quarter-finals' clash in the previous season.
Though the Blaugranas had won the first leg (held at Camp Nou) 4-1, they lost to opponents AS Roma 3-0 in the second-leg; eventually losing out a semi-finals' berth purely on the basis of away goals.
This time again, though Barcelona won the first-leg match held at the Camp Nou, they will also have to see through the second-leg without much harm – if they want to make sure of entering the UCL finals.
According to Diario Gol , Ronaldo also spoke on how the ongoing Champions League has been full of comeback matches.
In case you didn't know, Dutch team AFC Ajax defeated Real Madrid 4-1 in the second-leg of the round-of-16, even after they were handed a 2-1 loss at home in the first-leg. Similarly, the same side fought hard for a 1-1 draw against Ronaldo's Juventus in the quarter-finals' first-leg, after which they defeated the Turin side 2-1 in the second-leg.
Ajax looks solid after their first-leg semi-finals' game, where they defeated Tottenham Hotspur 1-0 away from home. The Dutchmen are essentially one win away from a spot in the finals.
Simailarly, Manchester United had also overcome a 2-0 deficit at home in the first-leg of the round-of-16, before they won 3-1 against Paris Saint Germain in the second leg. The Red Devils were knocked out shortly afterwards, by Barcelona in the quarter-finals.
Categories: Football , UEFA Champions League
Tags: Ajax , barcelona, champions league ,
Cristiano Ronaldo , Ermesto Valverde , Jurgen Klopp, Juventus , LA LIGA , Lionel Messi,
Liverpool , Luis Suarez , Mohamed Salah , Premier League , Real Madrid , Sadio Mane , Serie A