Mohamed Salah hits hat-trick as Liverpool run riot at Bournemouth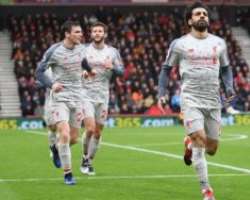 In a place where they had been only two seasons ago comprehensively embarrassed, Liverpool were imperious on the Dorset coast. Securing a victory which, albeit temporarily, took them to the top of the Premier League, they issued a voluble statement of intent. Resilient, resourceful and sprinkled with the star dust of a Mo Salah hat trick, this was a win which oozed authority. Under normal circumstance, it might be considered one which announced impending champions. The trouble is this season Manchester City have upended all conception of normal.
"We controlled it, all the little runs we made opened up the gaps," said Jurgen Klopp. "But whatever you do in a football game, you need someone to finish it off, and what Mo did with his goals was exceptional."
With Napoli on the horizon in a critical Champions League tie on Tuesday night, Klopp made five changes from the bruising midweek encounter with Burnley. Most significantly, Salah and Roberto Firmino were restored, back to cause panic in the Bournemouth ranks.
In truth, Salah started as if a little rusty, ceding possession and failing to find a proper pass. Then on 26 minutes he relocated the radar that made him such a threat last season and span a fine pass into the feet of his Brazilian strike partner. Firmino shot, Asmir Begovic parried when he might have smothered and the ball bounced to the feet of a suspiciously advanced Salah who, after a guilty look for a linesman's flag, tucked it into the net. Much to the chagrin of the home crowd, convinced he was well offside, the goal stood.
Howe was not alone in sensing that the goal was the turning point. Until then his containing tactics had worked. But now for Bournemouth there was fresh problem. Set up to defend, to allow Liverpool to have the ball and to threaten on the break, the early breach meant the home side had quickly to seize the initiative. They tried: David Brooks was full of invention, Joshua King a flurry of flicks and feint as they tried to re-establish themselves. But they were fashioning space rather than opportunity.
And with Callum Wilson sidelined with a hamstring issue (which made Gareth Southgate's trip to the coast somewhat pointless, unless the England coach were trying to persuade James Milner to rescind his retirement), there seemed little chance of creating something from nothing. Bournemouth's best chance in the first half fell to Nathan Ake who, finding himself entirely unattended at the far post from a corner, skewed the ball behind.
Yet, constantly the threat was there from Liverpool, Salah haring after through balls, Andy Robertson ever eager in support. As Klopp readily admits, this is his most substantial Liverpool squad. Maybe not as coruscating in their play as at times last season, they are more resolute, more robust in the challenge, tougher to beat. The three midfielders the manager bought in the summer all started here and seemed to have been easily assimilated into the Klopp process: Naby Keita and Fabinho were precise and economical, while Xhedran Shaqiri, his voluminous shorts and long socks giving him the appearance of having no legs whatsoever, was always seeking openings in the middle. And then there was Milner, celebrating his 500th Premier League match by sliding into a challenge on Junior Stanlislas of a sort which, had he been wearing Burnley colours, would have had his manager self-combusting on the touchline.
With a swirling wind sending empty crisp packets scuttling across the turf, control was at a premium. And, with the second half barely underway, Liverpool had more of it. When Steve Cook let the ball spin off his foot into Firmino's path, the response was inevitable. Firmino immediately found Salah who sped forward. With a crude lunge at his Achilles, Cook tried to hack him down, but he sped on and slipped the ball precisely into the corner of Begovic's net. No need to check with the linesman this time.
Worse was to come for the hapless Cook. First he managed to scoop a Robertson cross past Begovic to gift Liverpool a third. Then his misery was completed when he was outpaced by Salah in the dash after the substitute Adam Lallana's deft through pass. He got a foot to the ball, but the Liverpool forward simply sped on, rounded Begovic not once but twice, to complete his hat trick. It was the smartest of goals, one brimming with confidence, with application, with sheer aplomb.
"He looked very good today," admitted a chastened Howe. "We really struggled to contain him."
Two seasons ago, Bournemouth had come back from what appeared to be a certain hammering, to beat Liverpool 4-3 here at the last. But not for a moment did a repeat seem likely. Largely because this is a very different Liverpool.
"They're a lot more robust," was Howe's assessment. "They're stronger physically, tactically. They are a better side."
He has a point. Belligerent, determined and with Salah adding the most effervescent of flourish, this is a Liverpool looking fully geared up for the long haul.