Sarri: 'Chelsea do not need to follow Guardiola's example and spend £200m to win the title'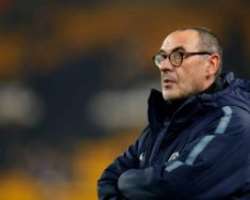 Maurizio Sarri has revealed that  Manchester City manager Pep Guardiola warned him that he would not be able to improve all of his Chelsea players  during his first year in charge.
But head coach Sarri has ruled out following Guardiola's example and spending £200 million to improve his squad at the end of his first season.
Guardiola won his opening 10 games as City manager, but the club eventually finished the Spaniard's first season third in the Premier League table and without a trophy.
Sarri started life at Chelsea with an 18-game unbeaten run, but the Blues look on course for a battle to finish in the top four  after losing two of their last three Premier League games  ahead of City's visit to Stamford Bridge.
It was in June,  before he was officially appointed by Chelsea the following month , that Sarri met with Guardiola and the former Italy and AC Milan manager Arrigo Sacchi.
Asked what Guardiola had told him, Sarri said: "He told me the first season in England is really very difficult. For him, it's impossible to improve, in the first season, 20 players.
"He told me, in the first season, you have to work only on 14 players otherwise you are in trouble. You need too much time to improve all the squad. In England, it's really very difficult."
Inevitably the question of whether or not Sarri would be allowed the type of difficult start Guardiola survived at City.
"I don't know, you'll have to ask the club," said the Italian. "I don't know what to answer. I don't know. But what happens if Guardiola had no time in City? Maybe the best team in the world wasn't City in the last year."
Guardiola reacted to his tough first season by adding Kyle Walker, Benjamin Mendy, Ederson, Bernado Silva and Danilo to his squad and City won the League with 100 points.
But, publicly, Sarri rejected the theory that Chelsea will have to match City's spending to make ground on the champions.
"We need to change the mentality, not because the old mentality was bad," said Sarri. "But it's not suitable with the new way of playing. Then, after all this, maybe you do need one player.
"But the market is really very important when you understand that you need only one player in one position for changing the team. But you cannot think that you can buy 11 new players without problems. If you do, the problems will be the same.
"You have to create a new mentality and a new style of playing. We need to improve. We need to arrive at 95 per cent of our potential. And then we can get the last five per cent with a new player. With a new player, not 11 new players."
One area Chelsea will look at strengthening, potentially as early as January if there are no signs of improvement, is in attack with Alvaro Morata, Olivier Giroud and even Eden Hazard struggling to find consistency in front of goal.
"If you have a player who is able to score every match, it's really important, but I think that's impossible," said Sarri. "I was really very lucky three years ago in Naples because [Gonzalo] Higuaín scored 36 goals in 34 matches, but that was something exceptional. It's very difficult for a striker to score in every match."
When it was put to Sarri that City's Sergio Agüero, Liverpool's Mohamed Salah, Tottenham Hotspur's Harry Kane and Arsenal's Pierre-Emerick Aubameyang are all prolific for their clubs, Sarri replied: "Not in every match. Every two, every two is possible. In every match, it's difficult for everybody. If you have a player like this, you are lucky. But if you haven't a player able to score in every match, you have to do something else.