Saudi prince worth A$1.5 trillion set for massive investment, potential takeover talks with Manchester United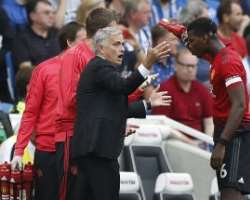 Crown Prince Mohammad bin Salman could be set to launch Man United takeover Source: The Sun
MANCHESTER UNITED is the target for investment from Saudi Arabia and a potential takeover.
Well-placed sources believe Crown Prince Mohammad bin Salman – whose family is worth around A$1.5trillion – wants to take on Middle East rivals like the Abu Dhabi-based owners of Manchester City.
And they think he is ready to sanction a bid by an individual or a move backed by the money of the oil-rich state to take a stake in United or, ideally, to buy the club outright.
Even if United's owners, the Glazer family, were willing to consider selling, it would cost the Saudis more than $5.5billion.
But they have the money and, it is said, the desire to make a big splash in football.
Saudi Arabia has already made investments in sport through deals with F1 and WWE.
Crown Prince Mohammad bin Salman sits down with Gianni Infantino at the World Cup. Source: The Sun
But so far its biggest play in football has been banning Qatar's beIN SPORTS from broadcasting in the country.
BeoutQ, a firm allegedly based in Saudi Arabia, has been pirating the beIN SPORTS coverage of the Premier League.
Buying into United would be a massive statement in the wider financial and political battles being fought between the Gulf states.
The Glazers' attitude to selling all or part of the club they have owned since 2005 is unclear.
Crown Prince Mohammad bin Salman would takeover the club from the Glazers Source: The Sun
But it has been noted that co-chairman Avram Glazer has been spending significant amounts of time in Saudi Arabia recently.
Avram is due to attend the Future Investment Initiative conference in Riyadh later this month, along with leading bankers and investors from around the world and key figures from the Saudi administration.
United already have a strategic partnership with Saudi Arabia's General Sports Authority to help develop football there as part of the Crown Prince's 2030 Vision project to change the country.
But independent sources believe the Saudis are ready and willing to make the relationship far more significant.
Any deal would be expensive and tough to negotiate.
The Glazers floated part of United on the New York Stock Exchange in 2012 and of the available shares, which add up to just under 20 per cent of the club, four investment firms own significant chunks.
Old Trafford boo United
0:45
But the six children of Malcolm Glazer retain firm control of the club by owning shares which give them more than 97 per cent of the voting rights.
Manchester United plc's current share price values the club at more than $4.6billion, but when it reached a record high in August the figure was $5.7bn.
The Glazers would expect an offer that valued the club at an even higher price in order to consider loosening their grip on a trophy asset that makes so much money.
The Glazers have taken more than $1.9bn out of the club during their reign while boosting income to a record $1bn last season.
If the Saudis are serious about taking on Abu Dhabi's Manchester City, Qatari-owned Paris Saint-Germain and other big clubs sponsored by rival Arab states, they will want to own United lock, stock and barrel.
Experts reckon it is unlikely the Glazers would sell up, to the Saudis or anyone else, in one go.
They could simply float more shares on the New York Stock Exchange.
Neville unleashes on United
But City sources think the Glazers would probably opt to sell some of the "B" shares which they hold privately to give new investors a decent slice of the action without losing control.
Manchester City's owners acted similarly when selling 13 per cent of the City Football Group to a Chinese consortium in 2015.
New investors in United would then gain a staging post towards a full takeover but the Glazers could keep their options open.
Crown Prince Mohammad bin Salman and Saudi Arabia could approach an investment in different ways.
Another member of the royal family or one of his close friends could bid as an individual, or the offer could come from a sizeable Saudi-owned company.
But in the event of a partial buyout of the Glazers' private shareholdings, experts think the sovereign wealth fund would be the most likely vehicle.
Saudi Arabia has already invested in global brands like Uber and Tesla, but buying into United would be its highest-profile move to date.
This story originally appeared in The Sun .