ose Mourinho left stunned as Derby send Man Utd crashing out of Carabao Cup on penalties at Old Trafford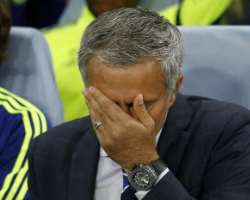 Up in the Old Trafford seats with the rest of the non-playing Manchester United squad, Paul Pogba will surely have reflected that, given recent events, this was one humiliation he was happy to miss – although even he could not have imagined just how spectacularly bad it would become.
Taking into account the long history of the rise and fall of Jose Mourinho at various different European super-clubs, this felt like one of those days when mistakes were made and positions entrenched. On the one hand it was a good old-fashioned Cup shock, one of those days when football's mesmerising symmetry takes over: Mourinho beaten by his former midfield golden boy Frank Lampard on the day he went to war with another.
On the other this was much more serious than just a Carabao Cup third-round defeat. Pogba had been stripped of the captaincy earlier in the day, Mourinho said as much afterwards. There was already a tension about the evening before United raced into an early lead and then found themselves generally outplayed by a young, ambitious Derby team assembled on a fraction of the budget and managed by Lampard and his assistant Jody Morris. There was a wonderful goal from the Liverpool loanee Harry Wilson and a red card for United goalkeeper Sergio Romero.
Clinging to it all was the strong sense of catastrophe for United, even when Marouane Fellaini, on as substitute, headed an equaliser in the fourth minute of time added on at the end of the game. Before then it seemed like Jack Marriott, another substitute, might have scored the goal to win this tie. In goal for United by the end was their third-choice Lee Grant, a veteran of two spells at Derby and cheered by the away support when he came on.
It was a confusing evening all-round, even when Juan Mata scored after three minutes. Winning the penalty shoot-out would have been scant comfort for United but they could not even manage that. There were 15 beautifully taken penalties until finally Phil Jones stepped up and Scot Carson made the save that gave Derby a place in the fourth round that they so richly deserved.
Paul Pogba watches from the stands Credit: getty images
Lampard said as much afterwards, a wry smile on his face when Fellaini equalised. "That's the thing that made me happiest," he said. "I wouldn't have minded if we lost on penalties because we played without fear. We didn't come here and sit back, put men behind the ball and wait to see what happened.
"We went 1-0 down after three minutes, which is even harder because maybe then if you're a bit weak in the mind you can think 'here we go' and we didn't. We got the ball, we played, kept trying to play. We won the ball high up the pitch, we brought the line up the pitch, even when you've got Romelu Lukaku who is one of the biggest threats in world football running in behind. We had the confidence and the balls to play like that."
He said that Mourinho had congratulated him on his team's performance even before the shoot-out. In the other technical area, the United manager fretted and accused, overlooking Alexis Sanchez as a substitute when he had the chance to make changes and instead going for the physical presence of Fellaini who – it should be said – was one who did not let his manager down.
Phil Jones and manager Jose Mourinho trudge off after defeat Credit: Getty images
Mourinho denied a row with Pogba but confirmed that the World Cup winner was no longer his second choice as captain. "The only truth is that I made the decision for Paul not to be the second captain anymore," he said. "It was exactly the same person who decided Paul was the second captain. No fall-out at all, just decisions I do not have to explain."
No-one believes any longer that this is a happy club, Pogba's comments having seen to that. The list of teams who have come to Old Trafford and out-passed the home side is growing by the game. "You want me to say we play a phenomenal match?" Mourinho asked, rhetorically. "The truth is the opponent in the second half started better than us, we responded at 1-1." Earlier he had said that as the penalties had worn on "I knew we would be in trouble with Jones and Eric [Bailly]."
Harry Wilson of Derby County scores a sensational free-kick Credit: Getty images
United's best move was their goal, when the ball went from Antony Martial on the left to Lukaku and to Jesse Lingard before Mata finished from the right channel of the area. Other chances presented themselves but they failed to take them and Wilson equalised with a brilliant, second-half free-kick.
It was the Liverpool loanee who nudged the ball past Romero for the handball to be committed and the red card awarded. Mason Mount, on loan from Chelsea, and another young player who had a fine night, later had the shot which Grant saved to present Marriott with his first Derby goal from the rebound. Fellaini nodded in the late equaliser but this was Derby's night, and they deserved it.
10:33PM Mourinho
We need to go and kill the game, which we could not. We could not dominate at the start of the second.
We only went for it after the 1-1. And I do not prefer that: I want to be proactive not reactive.
Somebody has to miss. When it went to six or seven, I knew we had Eric and Jones and we were in trouble.
What do you want me to say? We played an incredible match? The Carabao Cup is not a worry any more..
The new rules put the favourite team in more danger. With 30 minutes extra time, you would normally win the match.
No fall-out with Paul, no problem at all. I am the manager and I make the decisions.
The Telegraph