N5BN AIRLINES DEBTS ARE CRIPPLING OUR OPERATIONS – IBRAHIM AUYO, MD/CE NAMA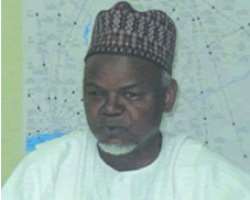 Ibrahim Auyo
There is one burden on the shoulders of the Managing Director/Chief Executive of the Nigerian Airspace Management Agency (NAMA), Alhaji Ibrahim Usman Auyo—to recover the N5 billion owed the agency by domestic airlines in the country.
The reason for the nightmare is not far-fetched; an agency like NAMA that depends on its internally generated revenue for its entire operations, the N4 billion, if recovered, will address a lot of infrastructural and manpower issues staring the parastatal in the face.
Worse still, Auyo's headache is heightened by the fact the debtors are not only customers, but the reason for agency's existence in the first instance. As such, it has become very difficult to 'deal' with the debtors because any harsh action is tantamount to wiping off domestic operators in the country.
Auyo, in a recent interview, said it was funny that the same debtor airlines who have  refused to pay for services rendered, are the first to scream if there is a slight disruption in NAMA's operations. He said the N4 billion accrued from en-route and terminal navigational charges, adding that Nigeria is the only country where domestic airlines have perennially refused to pay for such.
Rather than wallow in endless pain, the NAMA boss is toeing the dialogue path to recover at least some of the debt.
He revealed that the accounts reconciliation, which the airlines tenaciously clung to as the main condition to pay their debts, has been done. While sympathizing with the airlines against the backdrop of global financial crisis and other challenges threatening their existence, Auyo said the NAMA is small as such, it has no significant impact on the airlines if paid as at when due.
He also said the agency deserves sympathy as well, noting that its operational costs, especially power generation, has increased sharply due to the epileptic power situation in the country. As regards the Total Radar Coverage of Nigeria (TRACON) project which ensures the entire airspace of the country is adequately monitored at the same time, the NAMA Chief explained that all the equipment procurement and installation have been done, adding that the remaining thing is for NAMA engineers to calibrate the equipment to ensure they give accurate readings.
In this interview, he speaks on the agency, challenges and more.
Excerpts:
Revenue generation
We are not getting enough money to maintain, to pay salaries, to train our personnel. That is the reality on ground. Since 2001 till date, some airlines have not been paying NAMA the charges they ought to pay. In addition, today, we have a huge outstanding debt, especially from 2007 to 2009. We have to go and get our money or else we will not be able to survive. Yes, the Federal Government gives some money to procure some infrastructure, but we have to maintain that infrastructure. We must make sure that it functions 100 per cent all the time.
Therefore, we are doing everything to get our money. We know these are our good customers and we are their customers as well. So, we have to help each other. The only thing we can do after due process, after everybody must have been informed, is to take a drastic action and I hope when we do that, we'll not be blamed. One of the actions is that we can deny them our services. So, they should try as much as possible to meet their regulatory requirement and pay all dues because it is very, very important.
Without that, even NCAA can seize your certificate for accumulating debts. You must meet your financial obligation to ensure that you maintain your operation, maintenance  and so on. Another thing again is that the local airlines are owned and run by Nigerians; so why can't we put our heads together and solve our problems. If the Federal Government would come to our aid, of course, we will accept it. We need that of course.
Definitely if I can't maintain these navigational equipment, I have to write to the Federal Government that I want assistance in certain areas. Last year, we spent millions and millions of naira on power. In fact most of our TRACON site are on generators.
Outstanding debt airlines owe NAMA
What we had initially from 2001 to 2007, was over N2 billion. Now, another N2 billion from 2007 to 2009 making N4 billion in totality. However, they (airlines) said we have to sit down and reconcile accounts, so we agreed. The new Minister seeing the problem we are facing, I mean NAMA and FAAN, said they should call a meeting for the airlines and asked us the debtor airlines. And I think the new minister has waded into the situation.
Lifeline
I can't put a figure to the amount, NAMA needs as a lifeline and this is as a result of three factors; one, on the TRACON, I have a maintenance agreement of five years which was over N2billion. Each year, I pay money for that maintenance agreement. So, the main problem now is the sustenance of these equipment and other facilities. Once we have VHF coverage, we are going to go into the same maintenance agreement thing and the Federal government is going to fund it. It is not part of the money we are collecting from the airlines. What we are collecting is for the training, retraining, salary and sustenance, calibration and so on.
Amount spent on power generation annually
I can't give the exact figure for last year but I know that up till last year September, we had spent about N173 million. We are trying to compute the exact figure we have spent so far.
Air Traffic Controllers for TRACON
There is no problem about that. We have done a lot of training of ATCs, despite our general shortage of manpower. Do not forget, we have had radar before in 1978. We are all radar controllers. There is radar control within 70 miles of an airport. However, this one is covering all the airports in the country. So the one that they will train our men is this Aerial radar control. Right now, we have another team on training in United States and they will soon come back.
We have all those trainings but the number is what we are talking about. Formerly, we had to get the distance and figures of approaching aircraft in our head. Now it is not like that anymore because with TRACON in place, you can see approaching aircraft. So, by the time it is fully ready and our people are fully trained, we shall have no problem on that.
Commissioning of TRACON
As of now, everything we have tested as regards TRACON is functioning. We are waiting for the calibration. Once we calibrate; that is when the integration will come in. So if you are still in Lagos, you will see everything in southern Nigeria. From Abuja up to north of Yola, Calabar and up to the sea. The calibration is being done by the engineers and they are on the ground and they are working.
For the commissioning of the Total Radar Coverage, we hope by the end of June, we will be able to get total project integration. The main thing we are waiting for now are the procedures which the directorates are working on with NCAA. Once that is formalised, it will come alive and then we will have adequate coverage of the airspace.
Securing equipment in remote areas
At every terminal, we have our own security officers also. And within the airport we normally work with the Airport Commandant, other security agencies and FAAN to be able to secure these equipment. Normally, we provide small houses for these generators that are located outside and we lock them. The one that was stolen was 7kva and because it was mobile that was why it was easy for them to steal it.
Collaborating with NCAA for calibration
Well since you said the NCAA calibration airplane is back, we can now liaise with the NCAA to see how we can get their service in that regard.
Cost of engaging ASECNA for calibration
The agreement they have with us is about N50 million for four months that is quarterly. ASECNA has 18 countries in Africa which they control. All the French countries and about three other Spanish nations. It is much cheaper to get somebody from our place if we can.
Aged personnel
NAMA has a succession plan, we know how many people that are leaving next year and we know who will take over when they leave. NAMA is a professional agency. It is not like FAAN. FAAN is airport, we are airspace. You don't see our airport facilities. We are here to make sure that our airspace is very safe so that FAAN can smile.
Amount needed for capital projects
We are guided by the International Civil Aviation Organization (ICAO) rules because aviation is global. There is no Nigerian aviation. Therefore, it has to depend on what the international aviation plan is or was. The essence now is that the whole world needs a seamless navigation system and one FIR. If you take off from Lagos, you can go anywhere you want to go. The development is coming very fast. So, it is difficult for me to say now, how much we will need for that. At the moment, we are trying to put the state-of the-art equipment and that is what we are looking forward to. So we are updating our facilities.
Generally it entails all the process we are trying to do in NAMA. We embarked on updating the facilities for the safety critical services that NAMA provides in the Nigerian airspace and in the airports also. Among those projects were the Total Radar Coverage of Nigeria Project which was started in 2004. And, we were able to get the final listing within the three months we came last year to get the radar fully serviceable.
And thanks to the Minister of Aviation who was really behind us to make sure that things were done quickly to be able to put Nigeria in the bright light of other countries meeting the international standards of safety of operations and within our airspace. So there are about 8 sites apart from Lagos and we have to struggle to make sure that those sites are serviceable. Abuja radar site was also made fully serviceable and it started operating and that was around April 2009.
Then towards the end of August/September, we got Port-Harcourt serviceable also. Port Harcourt radar has been very useful to us. There has been a lot of operations, a lot of traffic information for helicopters going into the sea to the oceans to these oil rigs. Then by February this year, Kano has also become functional. We are only waiting for the calibrators to come and calibrate Port-Harcourt and Kano. All the other 5 sites which are satellite based are all serviceable. Four of them are calibrated by the engineers.
Then the red light of June is fast approaching but fortunately we have achieved all the equipment, they are fully there and they are fully functional only that the service cannot be provided because we have to get some few equipment which are already in test now and by the time that they finish the test then we will get the Nigerian Civil Aviation Authority to come and see them, try them then we hope by June that they will also be operational.
TRACON today has saved a lot of time, it has increased a lot of safety, it has made some pilots to fly any route they want to fly safely and on time. So that is the case of TRACON and we have also as requested by international standard that we must get maintenance agreement for each equipment that is installed. Aviation is dynamic and there is yearly development coming up. In addition, those things have to also go in within the next 5 years. Any new development will be fully included for maintenance by the company. Therefore, these will include training of the engineers, some of the ATCs also. By the end of 5 years, we can terminate the contract or we can limit it to a smaller contract.
Total VHF coverage
Some years back, Nigeria was blacklisted because of poor communication in the air. But for some years now, with the introduction of new facilities, the communication has improved. When we came in last year, we discovered that the communication was not all that we wanted it to be. We wanted the Total Coverage of the Nigerian airspace. By the way, radar is covering 10 miles. So, 10 minutes before you enter Nigerian airspace, we would see the aircraft. So also the VHF coverage. By the time we are able to see the pilot, we shall talk to the pilot and he will hear us and he will answer us. So that is what we are hoping now to happen in Nigeria.
More so, within last year, all necessary purchases were made, and the equipment are now on their way to Nigeria. And we hope by September, we will be able to get the VHF coverage fully implemented in Nigeria. The VHF, is Very High Frequency, which is meant for talking between the pilots and the ATCs or the aerial control centres and other control towers within the country. They give the necessary good communication between the pilots and the controllers.
What we are doing now is that we are able to upgrade all our SATCOM. We spent some money to purchase some spares and keep because it has to be on. For example, Kano centre is responsible for Jos, Maiduguri, and Sokoto Satcom. The Satcom itself will be integrated into the satellite system. Lagos is responsible for Ilorin, Port-Harcourt ect. So, we are trying to make sure that we have enough spare parts to keep it functional.
WGS84
That will be the next thing here. America is already there. It was a plan that was made since 1995 and we hope it will end except ICAO decides to extend it because of the African region. Unfortunately, African region is always a bit behind the other regions. However, we are trying to achieve the feat. We hope that by 2011, our WGS 84 will be fully functional in Nigeria. The WGS 84, like we said is Wide Geological Survey, is the surveying of all relevant points on the airports and along the air routes for safe air navigation services and for the safe landing and taking off of any aircraft within the airport or within the airspace.
VSAT
The VSAT will take all these parameters we have, the aeronautical information which is coming from the AIS automation, it will take the radar, it will take the voice and the communication into its system (VSAT) and send to all our stations within the country. Some information that is required to go international will route through our way. We will also receive from international and capture all the database right here in Nigeria.
We must sustain the current landing systems, the current VOR, ILS that we have on the ground to make sure that they are in good condition and they give the appropriate information for landing safely. We have to sustain what we have until we are fully sure that the integrity of all the facilities we have are fully tested and confirmed all the time.