inedine Zidane wants to replace Jose Mourinho at Manchester United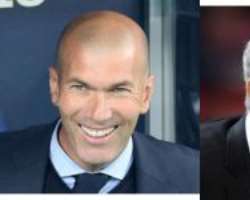 From Esquire
José Mourinho's summer of discontent is deepening by the day, with new reports suggesting that three-time-on-the-spin Champions League winner Zinedine Zidane is interested in taking over at Old Trafford.
French sports newspaper  L'Equipe  reports that, should Mourinho's clockwork third season meltdown pull into Manchester Piccadilly on schedule, Zidane would be up for becoming United manager at the end of the season. That's partly because Didier Deschamp's success with France at the World Cup has very likely taken that job off the table until after Qatar 2022.
That being the case, Zidane has been kicking his heels since his  surprise exit from Madrid at the end of last season . As he's reportedly looking for something to tide him over until he can take his rightful place at the top of the French game, and having already proven himself in Spain, he's looking to the Premier League and particularly to United.
Quite how José's likely to take this is uncertain. His contract at United runs to 2020, so if Zidane's going to poach his job then either he needs to organise a coup or wait for Mourinho's nihilistic streak to tear the whole thing down around him. Then again, maybe it'll be the gentle shove Mourinho needs to come to his senses and realise that actually, everything's basically fine, and Anthony Martial isn't such a bad guy when you get to know him after all.