Paul Pogba 'furious' with Jose Mourinho as Manchester United exit rumours intensify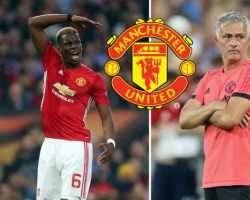 Paul Pogba and Jose Mourinho's relationship has deteriorated further, with the French midfielder reportedly telling Manchester United team-mates that he is angry with his manager's recent comments.
The World Cup winner reported back to United training over the weekend, after enjoying three weeks holiday on the back of France's success in Russia.
Mourinho hinted numerous times that he wanted players to return early, which Pogba did not do, praising the likes of Marcus Rashford and Phil Jones for their efforts.
That came after Mourinho was far from effusive in his praise of Pogba during the World Cup, when the Frenchman was widely heralded by many for an impressive array of performances.
Mourinho and Pogba's tense relationship was first evident last season; Pogba was left out of the starting XI in both legs of their Champions League knockout tie with Seville and said that there were 'small problems' between himself and the manager.
During the World Cup Mourinho then explained why he thought Pogba had been able to perform at a higher standard for France than he managed last season for United.
Mourinho explained: "The World Cup takes one month and for one month the players are in a closed camp, isolated from the external world, isolated from commercial compromises and isolated from every possible influence.
"They just think about football. It's a perfect habitat for a young, talented player to grow up and flourish."
The insinuation that Pogba was unable to maintain his focus during a 38-game season is said to have angered him, unsurprisingly, and Mourinho poured further fuel on the fire during the pre-season tour to America.
"Paul was like the [France] team," he told reporters. "He started average and ended top."
The heightened tensions in their relationship come at a time when both Barcelona and Juventus are believed to be interested in signing the 26-year-old, who, according to The Times, has let his team-mates know of his frustrations.
According to the Mail, Barcelona had a bid of £44.6m plus Yerry Mina and Andre Gomes rejected yesterday, with Chief Executive Ed Woodward determined not to sell the man he brought to Old Trafford for £89m last summer.
Pogba's agent Mino Raiola reportedly wants his player out of Old Trafford and is touting his services around, although that could be to force United into offering him a contract that matches Alexis Sanchez's £500k a week.
Either way, it is the latest difficulty for United in a wretched pre-season that has seen Mourinho criticise his own players, United's youngsters, the club's transfer business and the tour of the USA.
United's hierarchy seem determined to keep Pogba, but his relationship with Mourinho shows no sign of improving and it is difficult to see them both remaining at the club for the long-term.