In signing Lucas Torreira, Arsenal has done something it hasn't done in over 15 Years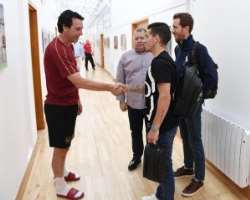 Just four days after his country was knocked out of the World Cup by the eventual winners France, Lucas Torreira was officially confirmed as an Arsenal player.
The deal between Arsenal and Sampdoria was brokered weeks before which is probably just as well or the Premier League club might have had to pay more than £26m ($35m) for the 22-year-old's services.
Despite having only played three times for Uruguay prior to Russia 2018 he was an outstanding performer at the World Cup and appeared in all five matches.
View image on Twitter
During Uruguay's run, Torreira showed that he can contribute in the opposition's half of the field.  But let's not kid ourselves, the key reason Arsenal made the move was his prowess as a combative and tactically astute holding midfield player.
It's a skill set Arsenal has been sadly lacking for some time and fans and media alike grew increasingly frustrated with former manager Arsene Wenger's unwillingness to plug a very obvious and costly hole. In fact, the last proven defensive midfielder signed for a fee by Arsenal was Gilberto Silva from Atletico Mineiro after his performances for Brazil in midfield in a winning cause at the 2002 World Cup.
Gilberto Silva would become a vital cog in the 2004 Arsenal side that went an entire Premier League season undefeated. Silva provided that Arsenal side with a unique skill set. He started his career as a center back in Brazil but he was moved into a midfield role where he maintained a "defense first" focus.
The three seasons before Gilberto Silva arrived,  Arsenal conceded an average of 39 goals in each Premier League season. During Silva's six seasons that average dropped to 33.5 goals. After his departure Arsenal never dropped below 36 goals (2015) and reached a high of 51 last season. From the 2009 season through to last season the average goals allowed was 41.5 per season.
Gilberto Silva was 31 when he left to sign for Greek side Panathinaikos in the summer of 2008 and many will argue that he was allowed to leave too early. During the 2007/08 season, Wenger had started to transition Silva's responsibilities to the more dynamic Mathieu Flamini.
There was a spell when Flamini was nothing short of a revelation in Arsenal's midfield. However, the problem was Flamini flew the coop to Milan at the end of the 2008 season on a "Bosman" transfer after AC Milan offered a massive salary bump.
It turned out to be a lose/lose situation. Flamini never replicated the sort of form he showed during his final season at Arsenal, and Arsenal lost a player who had finally hit form.
Flamini would return to Arsenal as a free-agent after five seasons in Milan and although he appeared in 66 games over three more seasons during his second stint with Arsenal, it was not the same.
For the 2009 season, Alexander Song inherited the defensive midfield responsibilities but there was a price to pay for his inexperience. Then, just as Song hit his peak years he was seduced by the siren call of Barcelona and was transferred for £15m ($19.5m) in the summer of 2012.
Arsene Wenger's solution was to have Mikel Arteta (an arrival in 2011 to replace Cesc Fabregas) play in a deeper defensive position – essentially a make-do solution.
Intermingled down the years since Gilberto Silva left, an assortment of players – young and old – have been given a chance to plug that same hole. Denilson, Frimpong, Coquelin, and Elneny have all auditioned but none have proved to be the solution.
If Torreira is the "answer" to Arsenal's decade-old defensive midfield problem then the fans will believe that a return to a top-four Premier League spot is possible.