I didn't have a good game against England at Wembley, but I'm determined to rectify my mistakes: Ogenyi Onazi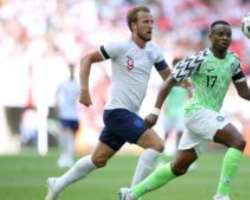 Ogenyi Onazi has admitted that he played a poor game against England and that he needs to improve before the World Cup.
The midfielder was hooked at halftime after a nightmare first 45 minutes in Nigeria's 2-1 defeat to England  at Wembley on Saturday, and told KweséESPN that it was a "disappointing game" for him.
"Saturday was a really disappointing game for us, especially for me in the this part of football. You just need to learn from your mistakes and then you move on," he said.
"It didn't go well for me yesterday. It was really not a good game. It was not me. But this is the game. Sometimes you play good, sometimes you don't. You just look forward to making a good outing in the next game.
"Thank God this is preparation. When we get to the World Cup proper, things are going to get better."
Onazi uncharacteristically gave the ball away a number of times and missed several tackles. In fact, his mistake and subsequent missed tackle allowed England to go forward and score their second goal through Harry Kane.
The midfielder took responsibility for the error but explains that Nigeria's first half formation left the midfield isolated.
"I have to get better. That wasn't me yesterday. I don't really want to think about the game too much," he added.
"The problem we had yesterday was the formation, it was not going really right. I did a lot of running on the pitch because we were always one man short on the defensive part of the game.
"The second half was much better because we played the same pattern with them and everybody was with his man."
Nigeria coach Gernot Rohr told reporters at the post match press conference that his team needs more work to be ready for the World Cup, something Onazi agrees with.
"We have a lot of things to do. We have a lot to put in place. We haven't really had time to train really well, to really work on our system. Because we have one system," the Trabzonspor midfielder continued.
"Now, we are trying to play other systems and I think we are going to get much better."
Nigeria departed for Austria on Sunday morning for the final phase of their pre-World Cup training camp.
They will play the Czech Republic in a friendly on June 6 before heading off to Russia on June 11 where they will face Croatia, Iceland and Argentina in the Group phase.
KweseSPN