Gossip: Manchester United 'allow' Martial to join Chelsea on ONE condition, Mahrez eyes Arsenal move and more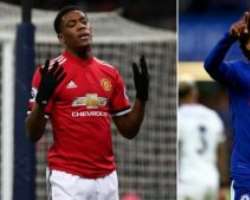 If you're a player in Jose Mourinho's good books then life is great – not so much when you get on the wrong side of him.
He trusts his favourites and isn't shy in raiding his old clubs for his very own Special Ones, just look at Nemanja Matic, who he recruited for Manchester United from Chelsea.
Another old face from his past could soon be pitching up at Old Trafford to add a sparkling touch of samba flair to the side as Willian returns to his wanted list.
Willian admitted he had been in contact with United via his agent last summer but the Blues were not keen to let him go.
"There were a few conversations with my agent. I worked with Mourinho and I became his friend as well," Willian said.
"He likes me a lot and I like him a lot as a coach and as a person. He has put his trust in me and in my work, and I was very grateful to him.
How Manchester United can catch Manchester City
Manchester United may finish as runners-up in the Premier League but they've not challenged Pep Guardiola's men this season. Here, we look at the signings Jose Mourinho could make to rival his neighbours next season.
"Manchester came to me, they talked with my agent, but nothing happened, because Chelsea would not negotiate me in any way and I'm very happy at Chelsea."
Mourinho's stance has not changed and he still wants to make the wild-haired winger one of his main additions during the forthcoming transfer window.
So much so that, according to the Sunday Mirror, he is willing to let Anthony Martial go to Chelsea as part of an £80million deal.
Martial agitated for a move to Arsenal in January and has struggled to develop his game under the Portuguese having been signed by his predecessor Louis van Gaal.
United value the player at £40million and see Willian as worth a similar amount so are looking for some cold, hard cash along with their new purchase. Mahrez favours Arsenal transfer
Riyad Mahrez tried to force through a move to Manchester City in January.
One player who could get his way and join Arsenal, unlike poor old Martial, is Riyad Mahrez.
To be honest, at this stage it seems Mahrez would join Aldershot just to get away from Leicester City after throwing his toys out of the pram in the winter window.
One player who could get his way and join Arsenal, unlike poor old Martial, as Riyad Mahrez.
It was Manchester City who came knocking that time but Pep Guardiola could be beaten to his signature by the Gunners, according to the Daily Express.
Mahrez has a house in London and would jump at the chance to join the new revolution in the capital as Arsene Wenger waves goodbye to the club after 22 years.
Claude Puel has supposedly been given the go-ahead to demolish the remnants of the title-winning side and Mahrez has become a problem that needs to be solved.
Wenger out, Mahrez in, then Arsenal fans? Mourinho agrees first deal of the summer
Elsewhere, Mourinho has reportedly been spending even more of the Glazers' millions by already agreeing an £80million transfer fee with Lazio for Sergej Milinkovic-Savic.
The Sun claims there was a breakthrough in talks last week and the Serbian midfielder will become the second most expensive signing in Premier League history.
Lazio's Sergej Milinkovic-Savic (Alessandro Di Marco)
Conte's exit still looks certain this summer and the Sunday Mirror says he could be heading back to Italy to replace Maurizio Sarri in a swap deal.
Borussia Dortmund could call off a move for Tiemoue Bakayoko because Chelsea want £53m for their transfer flop, says Sport 1, via Sun on Sunday.
And Kieran Tierney, according to the Mail on Sunday, is keen on a move to Bournemouth after impressing at Celtic.