Embrace Real Madrid's glorious Champions League nonsense while it lasts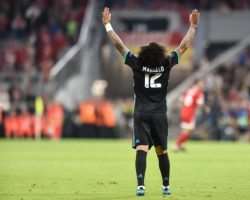 I know, I know. Real Madrid is mega-rich, mega-successful and mega-annoying.
But here's some bad news you almost certainly know already: Unless you root for one of maybe 10 clubs in the world, yours is never winning the Champions League. Soccer is as top-heavy as any sport, so you have to find someone or something to root for at the highest level.
You could analyze the tactics and pour over the match film and still come up well short of reasonable answers for why Real Madrid has put together the most unprecedented dominance in the history of club soccer. It doesn't make sense. So isn't it sensible to just embrace it?
Take Wednesday's  Champions League semifinal  leg against Bayern Munich, for example. The Allianz Arena is a cauldron for 99 percent of Europe. Not Real Madrid, which plays with such reckless abandon that it's now won three straight times at Bayern's home stadium in the Champions League knockout stages.
And perhaps the key is that abandon is completely self-conscious. Real Madrid absolutely knows how good it is, and it absolutely fills the side with confidence every time it takes the pitch.
That's why Marcelo, Marco Asensio and Lucas Vazquez put away Bayern Munich. It wasn't a multi-goal showcase from all-time great Cristiano Ronaldo. It was supporting players punishing mistakes with ruthless efficiency (and  making up  for their own).
This team isn't simply bought and paid for, either. Vazquez is from Real Madrid's academy. The club identified young stars-in-waiting like Asensio and Isco early in the transfer market, and beat others to their signature. Same with Marcelo. Real Madrid developed all of them into match-winning talents, as it has with others in this current squad.
Then there's Zinedine Zidane, who was a phenomenal player but also a big risk as a manager. That didn't stop Real Madrid's brass from hiring him to oversee the club's B-team  without the necessary experience , nor did it stop them  from sacking  the vastly more experienced Rafa Benitez after half a season in charge to make way for Zidane.
The reward? An incredibly well-tempered leader who's never for a single moment looked overwhelmed by the toastiest seat in soccer. A man who hasn't wavered in supporting a volatile defensive spine, nor hesitated to bench established stars. A club legend who fought to get defensive midfielder Casemiro into the Starting XI on a regular basis, a move which paid off tenfold.
And boy, does Real Madrid work hard. What they may lack in strategic acuity they make up for in effort, abundance of quality and some decidedly dumb luck. And it won't last forever. The core players have been around awhile now, so the reality is they're about to get old or get sold. But three Champions League trophies have rained down thanks to their time together.
Remember all the talk being about when Real Madrid would win a 10th European title, aka La Decima? They're on the verge of La Decimotercero just four years later. They've trademarked winning Champions League games they shouldn't, getting results when it makes  zero sense  that they would.
So no, this last half-decade of Real Madrid isn't soccer at its purest. It doesn't need to be. It's glory, and more endearingly, it's glorious absurdity.
Joey Gulino is the editor of  FC Yahoo  and moonlights as a writer. Follow him on Twitter at  @JGulinoYahoo .